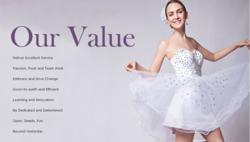 (PRWEB) July 05, 2013
MyDressCity is a distinguished women's dress manufacturer, and is famous for its print Quinceanera dresses. Recently, the company has announced big discounts on all its Quinceanera dresses, up to 59% off.
MyDressCity is devoted to designing and manufacturing the best Quinceanera dresses to its customers worldwide, and it is regarded by many people as a leader in special-occasion dresses for women. Their dresses are all available in numerous colors and designs. A great news for women worldwide is that the special offer is valid until July 15, 2013.
"We are delighted to announce the launch of the special offer, which provides each customer the chance to buy trendy Quinceanera dresses. The dresses, which allow you to show off your style in an economic way," says, a spokesman for the company. "Over the years, we have attracted a loyal customer base of people searching for high quality trendy clothing collections that can be hard to find in retail stores."
It is easy to place an order now with MyDressCity.com's interactive interface and dedicated customer support. The company is providing similar discounts on its women's dresses, including elegant prom dresses, little black dresses, lovely cocktail dresses, Muslim wedding dresses, and much more.
About MyDressCity
MyDressCity specializes in the manufacture and retail of all kinds of women's dresses. The company is a forward-thinking firm, and its goal is to make women feel confident, sexy, and contemporary. MyDressCity is trying to offer its customers more choices with affordable prices, and they accept customer's own designs as well.
For more information, please visit http://www.mydresscity.com