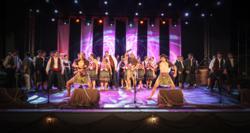 One very unusual connection between audience and performers
Opatija, Croatia (PRWEB) July 05, 2013
After great performances in Bale and Pula, tour called "Tarara Croatian Tour" was continued at one of the most beautiful open-air stages in the Mediterranean - the Opatija Summer Stage. Promoting Croatian cultural heritage by New Zealand, Folklore Ensemble "Kralj Tomislav" brought together hundreds of members whose main task was to connect the Croatian people and Croatian cultural heritage world wide preservation. Blending in with the local communities and gaining sympathy and friendship of the local population, especially Maori and Samoan, ensemble members and hosts achieved an unusual cohesion through Croatian songs. On this tour, the audience really has an opportunity to enjoy the magnificent Samoan capella performances and to be delighted by those indigenous chants combined with Croatian harmony blockbusters: "Vilo moja", "Samo moru virujen" ond others. Breathless feeling goes further with Maori who are, within their customs, songs and dances presentation surprising everyone with Maori version of the song "Vilo moja." If we add to all of this the outstanding "Folklore Ensemble Kralj Tomislav" performance led by Goran Kačurov and followed by "HTV Tambura Orchestra", we have a unique compound which, from the very beginning introduces the audience to a special world: open hearted, full of warmth and humanity – something that is almost, in today's world, nearly forgotten.
Old photograph projections of the Croatian and the New Zealand people and landscapes gave a special contribution to the entire event and special guests of the evening were the icing on the cake that was served to the audience in the form of ninety-minute rhapsody. There were Vedran Mlikota, Vid Balog, Jacques Houdek, Dani Stipanicev and Miroslav Skoro, who guided us through our land, with music and acting from Dalmatia, through Zagorje until Slavonia. Joint performance of all participants in the final song, the unofficial anthem and the most popular song of New Zealand, finished Opatija's appearance, to the delightnes of the audience that greeted the end on the legs.
"Tarara Croatian Tour" continues its journey towards Slavonia and Zagorje where it will, with no doubt, delight audiences in Ðakovo, Nasice, Krapina ...
Press Tarara.hr
info(at)tarara.hr