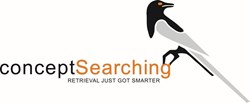 We will explore how to achieve consistent migration of content across an organization, based on the conceptual meaning of documents' contents.
McLean, VA and Stevenage, UK (PRWEB) July 09, 2013
Concept Searching, a global leader in semantic metadata generation, auto-classification, and taxonomy management software, and developer of the Smart Content Framework™, and Black Blade Associates will sponsor a webinar on Tuesday July 23rd, at 11:30-12:30 EDT.
In this webinar, which is one in a series on achieving ROI from SharePoint, Black Blade Associates and Concept Searching will discuss strategies for achieving a more cost-effective migration strategy by instituting a higher level of governance in the transition from source to destination. Topics explored will include achieving a consistent migration of content across an organization, based on the conceptual meaning of documents' contents.
Attendees will learn how to get the most out of the migration process. Discovering the difference between migration and intelligent migration is the ability to not only achieve a more cost-effective migration, but also improve the organization's compliance and governance in the transition. Without intelligent migration, the bar for Return on Investment (ROI) can be set far too high.
A successful migration cannot be viewed as simply adding a revision number to migrated documents. A content management system migration is an opportunity to bring governance to existing processes, and normalize systems that may have fallen out of compliance. The bottom line is that migration is not a simple process, and determining the correct identity and location of each and every piece of content is highly prone to error when performed solely by human efforts.
Governance can be very difficult to achieve, but the webinar will illustrate how the migration process can be used as an opportunity to establish it moving forward. Once governance is in place, ROI can be proven more easily, and improvements can be predictably made.
Register for the webinar here. If you cannot attend, please register and we will send you a link to the recording. For full details on upcoming webinars, and registration links click here.
Follow Concept Searching: http://www.twitter.com/conceptsearch
About Concept Searching
Founded in 2002, Concept Searching is now the industry leader specializing in conceptual metadata generation, auto-classification, and taxonomy management. Platform agnostic, Concept Searching is also a Microsoft managed partner with a Gold competency in Application Development, and offers a complete suite of SharePoint solutions. The award winning technologies integrated with Concept Searching's Smart Content Framework™ encompass the entire portfolio of unstructured information assets in on-premise, cloud, or hybrid environments. Clients have deployed the intelligent metadata enabled solutions to improve search, records management, protection of privacy data, migration, text analytics, eDiscovery, and Enterprise/Web 2.0.
Concept Searching is headquartered in the US with offices in the UK, Canada and South Africa. For more information about Concept Searching's solutions and technologies, visit our Blog.
About Black Blade Associates
Black Blade Associates is an information technology product and services company with offices located in Northern Virginia and Massachusetts. Staying ahead of the competition is challenging enough for organizations without complex and expensive business software implementations slowing them down and Black Blade Associates provides a better way for businesses to acquire new technical capabilities.
Through its products and services Black Blade Associates seeks to lower the barrier to entry for enterprise technology solutions, allowing it to bring advanced business capability to companies of any size. Its customers include commercial companies, government contractors, civilian and military government agencies, and non-profit organizations.
All product and company names herein may be trademarks of their respective owners.