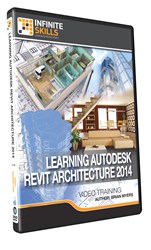 Learn Revit Architecture 2014 At Your Own Pace
(PRWEB) July 07, 2013
Software training firm InfiniteSkills Inc. last week introduced its "Learning Revit Architecture 2014 Tutorial," an introductory course teaching basic Revit functionality for architectural modeling.
Revit is a three dimensional architectural design modeling program that allows users annotate models with 2D drafting elements and access highly detailed building information from a building models database. Revit has tools for planning and tracking a modeling through the various stages of building life-cycle from design to construction and demolition.
InfiniteSkills' Learning Revit Architecture 2014 Training Tutorial provides a solid foundation in this sophisticated software, teaching basic tools and features involved in modeling a building, including some advanced tools for viewing and publishing models.
[Learning Revit Architecture 2014 Training Video - DVD
Course author Brian Myers has been working in Autodesk for more than two decades, starting in version 9 in 1989. For the last seven years, he has focused on Autodesk Revit, working in all of its various editions. Myers was one one of the first certified instructors for Revit Architecture, in an addition to his private training practice, Myers has published several video training series and edited two books. He is also the founder of Revit Users, a Revit support community found on LinkedIn.
After a brief introduction to navigating Revit's user interface, Myers explains how to get started creating a model in Revit, explaining templates, working with a project origin and location, and other factors involved in the initial file creation.
The course then proceeds by teaching various fundamental design elements. Students will learn to work with column grids; how to create, place, and add detail to various elements such as walls, doors, and windows, and other elements, like floors, roofs, and ceilings.
Myers also covers some of Revit's more advanced features, offering a taste of its capabilities to model all phases of a building's life cycle as he explains 3D views, working with elevations and sections, how to create sheets, and work with viewport titles.
The course also covers basic publishing capabilities such as printing, exporting to AutoCAD, and linking files to AutoCAD.
Free demo videos and a full list of course contents can be found on the Learning Revit 2014 Architecture training page on the company website:
http://www.infiniteskills.com/training/learning-autodesk-revit-architecture-2014.html
InfiniteSkills offers the Learning Revit Architecture 2014 Tutorial either as a DVD or a direct download from the company website at a retail price of $99.95. InfiniteSkills tutorials are compatible with both Mac and Windows operating systems. Shipping is available around the globe. Additionally, InfiniteSkills tutorials are supported by project files which correspond to examples in the videos.
About InfiniteSkills Inc.
A leader in the field of software training, InfiniteSkills designs its courses on a task-oriented model, teaching complex skills by providing hands-on examples and guiding users as they carry out essential functions. InfiniteSkills offers a wide range of software titles available as DVDs, digital downloads, and in iPad editions, keeping with company aim of delivering professional training to customers anywhere they want to learn.