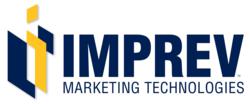 Imprev launched real estate's first fully mobile Marketing Center
Bellevue, WA (PRWEB) July 05, 2013
Imprev has been named as a finalist for two "2013 Innovator Awards" by Inman News, the industry's leading source of real estate information. Imprev provides the real estate industry's most advanced marketing platform, serving more than 150,000 real estate agents throughout the U.S., Canada and Europe.
The company is a finalist in two categories: "Most Innovative Brokerage or Franchise App, Tool or Vendor" and "Most Innovative Digital Real Estate Marketing Campaign or Strategy."
Renwick Congdon, CEO of Imprev, noted that other finalists in its nominated categories include top brands Realtor.com, Zillow, JPMorgan Chase Bank, Realogy's The Corcoran Group and LendingTree.
Imprev has been recognized by the Innovator Awards in the past. Its technology powered the MyMarketing portion of Keller Williams' eEdge solution, which won a 2011 Innovator Award. This is the fourth time Imprev has been a finalist for an Inman Innovator Award. "We are humbled to be included in such an elite group," Congdon said.
The Inman News Innovator Awards were created in 1997 to recognize technologies, tools and services that improve the real estate transaction process and experience for consumers and industry professionals. There are eight awards categories; winners will be announced during Inman News' Real Estate Connect technology conference July 10-13 in San Francisco.
In the last year, Imprev has launched numerous award-winning innovations, including the real estate industry's first fully mobile Marketing Centers, the creation of mobile-ready responsive Single Property Websites, a build-your-own video application, automated print and email marketing campaigns and integration with best-in-class technology providers, including Dropbox,YouTube, Facebook and Twitter.
About Imprev
Imprev, Inc. enables real estate companies to build Marketing Centers and web applications on the industry's most advanced marketing platform. The Imprev platform serves more than 150,000 real estate agents worldwide. Imprev provides the industry's only mobile-ready Marketing Centers that fully work on desktop, laptop, iPad or Android tablet. Imprev offers a broad set of custom and "better than white-label" solutions for brands, brokers, agents and teams. Established in 2000, Imprev is headquartered in Bellevue, Wash., and is online at http://www.imprev.com.