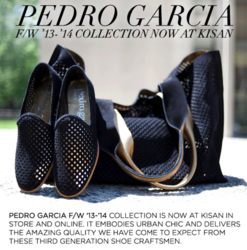 Pedro Garcia is renowned for impeccable craftsmanship.
New York, NY (PRWEB) July 08, 2013
Kisan, the highly curated designer women's and children's retailer in Soho, started fall fashion season with a selection of urban chic footwear and handbags from designer Pedro Garcia's highly anticipated fall/winter '13/'14 collection. The Spanish shoemaker's designs selected by Kisan are the perfect marriage of city and contemporary style.
"We selected only a few pieces, but they are very consistent in their feel," said Kisan co-owner Thorunn Anspach. "I love how they are so contemporary but have been finely crafted by a traditional Spanish shoemaker that has spanned three generations."
The Pedro Garcia all-black footwear selections include a perforated loafer, a wedge sandal, and a mid-calf boot. Handbag styles include a black perforated carry-all and a black suede tote.
Pedro Garcia is a family-owned enterprise that has built a reputation based on its attention to detail and world-class craftsmanship. Its contemporary, yet grounded, designs, however, are what have earned the designer a place in the international fashion spotlight.
"Pedro Garcia is renowned for impeccable craftsmanship," said Kisan co-owner Olivier Bremond. "Although it is a traditional shoemaker, its styles are very much design-driven. The Fall 2013 collection is perfect for a modern woman who likes urban, contemporary style and comfort."
Other accessories now available at Kisan include a sizable collection of Linda Farrow Luxe sunglasses. Favorites of such luminaries as Jacqueline Kennedy Onassis, Chloe Sevigny and Kate Moss, the 2013 Linda Farrow collection includes a wide assortment of shapes and styles to suit any face. Stylish touches of rose gold, snake and steel give this 40-year-old line a contemporary feel.
Color pop handbags in pink, yellow and turquoise as well as metallic and neutrals from Linde Gallery will make a perfect transition from summer to fall. These finely crafted bags in premium leather and crocodile skin not only provide the perfect classic casual look, they are incredibly durable.
Also featured at Kisan this month is a new selection of bohemian chic bracelets from Catherine Michiels. The beaded designs make these bracelets easy to wear, but the play of beads and metal is anything but simple. The Belgian designer, who says bracelet motifs come to her during her meditation time and world travels, uses a mix of precious metals and precious stones. You'll find amethyst, lapis, oxidized copper, pavé diamonds and more complemented by platinum and sterling silver.
New selections from women's clothing designer Tsumori Chisato are also now available at Kisan. In addition to the Japanese designer's breezy, feminine dresses and tops in bright, colorful prints, a few early fall pieces are now in stock, including a striped top, a short A-line dress, and a maxi dress, both in a whimsical city print.
Anspach and Bremond opened Kisan in 2008 in Soho, bringing the very best of their favorite fashions and designers they discovered while traveling the world extensively for 20 years. Their retail philosophy is to marry Parisian fashion sensibilities with New York style with clothing that doesn't sacrifice fine quality and wearability. The owners pride themselves on selecting current and upcoming designers with a unique dedication to both craft and style.
Kisan is located at 125 Greene Street, between Prince Street and W, Houston Street in New York. Or shop online at http://www.kisanstore.com.