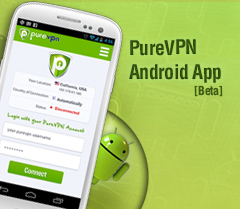 PureVPN's vision is to make online security and privacy as easy-to-use as possible and PureVPN Android App [Beta] is a big step towards this vision. Now PureVPN existing customers can use Android App to connect to their favorite VPN service on the the go!
Hong Kong (PRWEB UK) 8 July 2013
Considering the fact that Android is the most in-demand OS technology as of today with 900 million activated devices, Android has become the source to be reckoned with in the tech industry. Capturing the need of Android users, PureVPN Android VPN App (Beta) with VPN servers in 3 countries including USA, UK and Canada is now available on Google Play store. The app supports both rooted and non-rooted Android phones.
So what does this Android App (Beta) mean?
PureVPN Android (Beta) App means better VPN functionality on Android OS. Users can now access internet in complete secure and private environment without having the fear of outside intrusion on their Android devices.
When it comes to security and privacy, there are two things to talk about – securing access and securing communication. As a matter of fact, it is important to know that there are 1 billion Smartphone users all over the world, 68% of which are Android Smartphone users. According to the survey conducted by Identity Theft Resource center, 89% of Android Smartphone users connect to the internet through Wi-Fi. Out of the total Cybercrime 91% occur on Wi-Fi hotspots and open networks.
Similarly, one other info graphic by GoGulf.com stated that 600,000 Facebook profiles are compromised every year. 1 out of 10 internet users face the threat of internet theft every second. The most amazing fact according to infogr8 survey is 76% of Android users don't take protective measures while the remaining 24% do.
PureVPN Android Beta App comes with one-click, easy to connect option. User can also switch from one server or country to another in a couple of clicks without incurring any extra charges. Just by entering user credentials and selecting the desired country, users will be logged into the PureVPN's secure and private network. It offers 12 server in three most dynamic countries. The user will definitely enjoy 100% maximum uptime with PureVPN services.
PureVPN is one of the leading VPN service providers courtesy of its excellent geographical reach and highly optimized gigabit network. It provides most secure and private internet experience. PureVPN use up to 256-bit army graded encryption to secure every element of online presence from the threats of cybercrime. When connected via PureVPN not even an ISP can track footprints on the internet. With the access of numerous IPs and unlimited free server switching one will remain anonymous on the internet for all the time.
Supporting a wide range of supported protocols, excellent apps for all major OS and 24/7 helpful live support, PureVPN is the ultimate solution for online privacy and security needs.
Download PureVPN Android App at: http://www.purevpn.com/vpn-app-for-android.php
(Note: Requires a paid PureVPN subscription to use this app.)
PureVPN is founded and operated by Hong Kong based GZ system Ltd. Formed in 2007, PureVPN has been taking care of a vast clientele from 150+ countries since then. Its mission revolves around online security, freedom, privacy and anonymity. PureVPN has stamped its name in the VPN industry because of its dynamic self-managed gigabit network. Unique features and service innovation is an ongoing process at PureVPN.