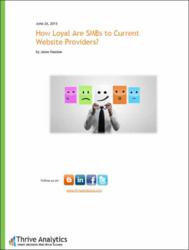 To stymie the churn and increase SMB loyalty, website providers should utilize the criteria SMBs stated they are looking for in a website provider to improve the overall experience for the SMB.
Kettering, Ohio (PRWEB) July 08, 2013
Thrive Analytics, a research and analytics consulting firm, has released a new report titled, "How Loyal Are SMBs to Current Website Providers," offering a detailed look into the Small and Medium-Sized Business advertising space. The report highlights SMBs loyalty toward current website providers, what makes them feel the way they do and what current providers can start and stop doing to better serve them.
Some of the report's highlights are:

Website provider's Net Promoter Scores® ranged from a -57 to +15 with an overall average of -25.
Several factors contribute to the overall low scores, including no or limited contact from current providers, poor results, and lack of website customization.
The low scores have contributed to high expected churn rates with 40% of SMBs expecting to change providers within the next 12 months.
About "How Loyal are SMBs to Current Website Providers?"
For the past 3 years, Thrive Analytics has been conducting "Local Pulse" surveys on small and medium-sized businesses to gauge their attitudes about the economy, what they are doing with their marketing budgets, what role social and digital media are playing in generating leads for them, and how satisfied they are with their providers. Thrive Analytics used findings from the June 2013 "Local Pulse Survey", fielded to 1,021 Small and Medium-Sized Businesses from our Connected Experience Panel™, in the preparation of this report.
The report includes the following charts/figures:
1-1 Net Promoter Score Ranges for SMB Website Providers
2-1 Contributing Factors for Promoters
2-2 Contributing Factors for Detractors
2-3 Contributing Factors for Detractors (Other Responses)
3-1 Expected Churn Rate of SMBs
4-1 SMB Attribute Map for Website Providers
This report is available to Thive Analytic's clients, and is also available for purchase ($299 for the report). More information about the report and how to purchase it is available at http://www.thriveanalytics.com/Website%20Loyalty%20Report.html
About Thrive Analytics
Thrive Analytics is a consulting firm that specializes in all areas of Customer Strategy and Marketing. We offer a full suite of marketing research services, customer experience evaluation tools, customer loyalty programs, data analytic services, and measurement tools to help our clients understand their customers. In addition, we provide outsourced services for short-term projects, marketing campaigns, and new go-to-market sales strategies. We believe our responsibility to our clients is to blend the right combination of analysis from our analytical tools, and generate actionable insights that deliver impactful results. To learn more about Thrive Analytics please visit our website at http://www.thriveanalytics.com or contact us directly:
Contact Name: Jason Peaslee
Email: jason.peaslee(at)thriveanalytics(dot)com
Phone: 937-212-4355