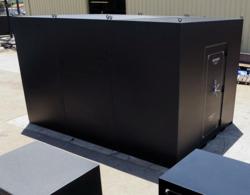 "Communities pay for the local education, including security and even after 7 kids were killed at A Elementary school in Moore, Oklahoma recently not one Storm shelter has hit the schools yet"-Matt Chenier
Los Angeles, CA (PRWEB) July 08, 2013
Damage from the Storms
Hurricanes, mega storms, and other natural disasters put families at mortal risk while endangering their homes and possessions. Hurricane Katrina claimed more than 1200 lives. Super-storm Sandy killed nearly 300. Many of these individuals succumbed to poor building construction that caved inwards during downward wind forces; others perished because collapsed ceiling beams blocked doorways and other means of escape.
The National Oceanic & Atmospheric Administration, or NOAA, says that Hurricane Katrina was "the most destructive storm in terms of economic losses." This 2005 mega hurricane caused more than $81 billion in damage. This natural disaster also generated the largest single loss in the history of the insurance industry at more than $41 billion according to the Insurance Information Institute. Hurricane Andrew and super-storm Sandy come in as second- and third-most costly events, each costing insurance companies nearly $20 billion.
Thousands of people lose their homes, personal possessions and important paperwork to exposure to the elements each year. Fires, hurricanes, and mudslides cause millions of dollars worth of damage. Wind, rain, mud, and fire damage many of these personal items during a hurricane or super-storm. Much of this damage to people and personal property can be prevented with the use of a quality storm shelter.
The Solution
Sportsman Steel Currently is running a special from July 4th until New Years Say on storm shelters and safe rooms of all sizes, mainly because of the high demand and the recent events in Oklahoma. Sportsman puts a full inch of solid steel in front of lockers and re-lockers to create a system that is five times stronger than anything else on the market. Equipped with 2-inch step system that seals on five levels, fire insulated ceramic doors protects precious cargo from temperatures as high as 2300 degrees. Carpeting makes the shelter comfortable during even the most uncomfortable circumstances. A ¾-inch protector frame, a ¼-inch steel reinforced body prevents heavy items from crushing anyone sheltering inside. The sturdy door swings in both directions to allow for escape even if something blocks the door from the outside.
Hurricanes and mega-storms usually give very little warning, so a quality storm shelter must be easy to get into in an emergency. For optimal security, keep important papers and prized possessions securely locked in the storm shelter. While easy to operate, the 14 bolt locking system keeps inhabitants safe from almost anything man or Mother Nature can throw at them.
Hurricanes, super-storms, and other natural disasters endanger the lives of families every day. Each family can reduce their risk for personal injury, death, and loss of precious possessions by investing in a storm shelter, like the Mega Hurricane Storm Shelter by Sportsman Steel.