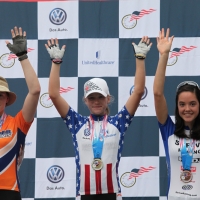 IonLoop wristbands are packed with technology for all types of serious athletes.
Dallas, Texas (PRWEB) July 05, 2013
For the last few days the streets of Madison Wisconsin have been filled with the country's most competitive amateur cyclist as the state's Capital plays host to this prestigious USA Cycling event. Just as riders in France are vying for that special yellow jersey; juniors, U23 and elite riders will all compete for the unique and very special winners Stars-and-Stripes jerseys in the road race, time trial and criterium.
Wearing duel IonLoop bracelets the new USA Cycling National Jr. Champion Janelle Cole wins the Women's 17-18 road race competing under the West Michigan Coast Riders club banner and dons the Stars & Stripes jersey on the podium. IonLoop has been proud to be a founding Co-Sponsor of this very competitive team for the last few years. "It was so cool to see Janelle on the podium with that shiny GOLD medal around her neck and two Ionloop sport bracelets on her wrist" said Melissa Gotfredson, IonLoop CEO. "Brant Hendler had a dream to develop a team of Juniors in Grand Rapids Michigan that would win many national championships…he has reached the first step and we are so excited to see where he goes from here" said Gotfredson.
"In today's era of ever-expanding technology—UV rays, cell phones, BlackBerrys, smart phones, and in fact all electronic devices that we are surrounded with each day – give off high levels of positive ions. IonLoop bracelet s help your body fight back with one of the highest levels of negative ion content in the industry—which is why many of the top professional golfers in the world choose to wear IonLoop sport bracelets," said Melissa Gotfredson, CEO of IonLoop.
About IonLoop
IonLoop® negative ion bracelets, wristbands and necklaces are a great first-step in counteracting the harmful effects of positive ions. The negative ion properties are manufactured into the silicone bands themselves and will not lose their effectiveness over time. Most of the bracelets and necklaces also contain two small but powerful magnets that are carefully assembled so that they alternate the polarity of each magnet; we believe this manufacturing process may be adding another dimension to the potential stimulus that the magnets may have on the chemistry of the human body. Keep your eyes out for IonLoop bracelets during PGA Tour events and stay in the Loop!
For more information on IonLoop technology and to view all of the other IonLoop bracelets, please visit http://www.ionloop.com.