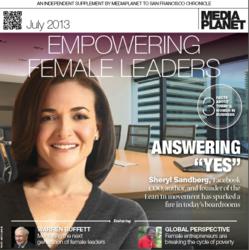 Empowering Female Leaders calls for women to light the way for other women, for the sake of the economy, the country and the world.
San Francisco, California (PRWEB) July 05, 2013
Today, Mediaplanet Publishing announces the distribution of "Empowering Female Leaders," the first publication to be released out of Mediaplanet's San Francisco office, which opened its doors this spring under the leadership of Managing Director Janel Gallucci. The cross-platform campaign is distributed as a 12-page print publication within The San Francisco Chronicle, and digitally across a network of online platforms, reaching over 2 million readers.
The awareness campaign aims to address and reverse the shortage of female leaders and entrepreneurs in the San Francisco Bay Area. It succeeds in uniting the organizations and companies working at the forefront of the female leadership movement, such as: Sheryl Sandberg, LeanIn.org, Dell, Warren Buffett, Levo League, National Association of Women Business Owners California, BlogHer, Women's Foundation of California, and more.
"There's a rising tide of women today who seek to achieve their full potential," states Betsy Berkhemer-Creaire of NAWBO-CA in the campaign's foreword. "Empowering Female Leaders calls for women to light the way for other women, for the sake of the economy, the country and the world," she goes on to say.
By raising awareness and highlighting solutions and resources, we can undoubtedly inspire more women to become entrepreneurs and empower the next generation of female leaders. Through the publication, readers will learn about a variety of topics including:

Mentorship
Entrepreneurship in San Francisco
Micro-loans and global perspectives
Leadership skills
MBA program opportunities
"The woman effect"
A main theme throughout the campaign is that there is more work to be done. Lesa Mitchell, Vice President, Innovation & Networks, Ewing Marion Kauffman Foundation, recalls through the publication how she stood on a stage in 2000 and announced that this would be the decade of the female high-growth entrepreneur. "More needs to be done," she states now, three years later. "The hope is next time I am on stage giving a talk about the 'decade of the female entrepreneur,' the words will not ring hollow."
Reaching over 2 million readers through print and online distribution, this multi-platform, campaign will serve as a voice for the women leadership movement and as a guide for women striving to advance their careers. To view the full publication, click HERE.
About Mediaplanet
Mediaplanet is the leading independent publisher of content-marketing awareness campaigns covering a variety of topics and industries. We turn consumer interest into action by providing readers with motivational editorial, pairing it with relevant advertisers, and distributing it within top newspapers and online platforms around the world.
For more information about "Empowering Female Leaders" or Mediaplanet San Francisco, please contact:
Janel Gallucci
Managing Director, Mediaplanet San Francisco
janel.gallucci(at)mediaplanet.com