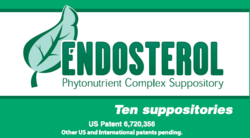 Endosterol suppositories suppress the conversion of testosterone to DHT and estrogen, supporting proper prostate function
Kahului, Hi (PRWEB) July 06, 2013
Although the treatment of chronic prostatitis requires some time and resources, the symptoms improve over months, and the Balanced Health Today Endosterol suppositories are a major supplement for the healing process. Balanced Health Today also commented that the causes of chronic prostatitis are not largely understood, however chronic prostatitis is diagnosed if the patient is experiencing discomfort or pain mainly around their anus or at the base of the penis, and if this pain has been persistent over a period of over three to six months.
Chronic prostatitis can be caused by a urinary tract infection with cases arising from bladder infections taking the prominent lead. Endosterol suppositories offer state-of-the-art support and contain beta-sitosterol, saw palmetto, pumpkin seed, dandelion, ellagic acid and MG Di-K EDTA. As rectum preparations, Endosterol suppositories are a quick and efficient treatment because the drug delivers its benefits through the rectum, which is closer to the prostate compared to oral preparations.
Research into the germ that causes chronic prostatitis is ongoing. Other proposed causes include nerve problems affecting the prostrate, and autoimmune problem of the prostate gland. Before using this medication, ensure that you get the required checkup from your doctor.
About Balanced Health Today
Balanced Health Today is a leader in the provision of Endosterol suppositories that are effective against chronic prostatitis or chronic pelvic pain syndrome. For more information visit http://www.BalancedHealthToday.com.