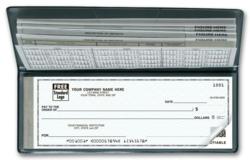 Miami, FL (PRWEB) July 05, 2013
Business checks printing is a useful tool for small companies. They are still widely used in today. They are an inexpensive way to connect businesses to their employees and vendors while keeping track of money that is spent. Small businesses no longer need to go through their bank to order checks. Online printing companies offer the same products as banks in an easy to use, customizable, and affordable platform.
There are four main reasons to use business checks:
1. Business checks have multiple uses
They can be used both externally and internally within a company. They can be used to pay employees or pay vendors and suppliers.
2. Security features allow for safer banking
It is crucial for small businesses to protect themselves from the risk of fraud. Smart Resolution offers customers no less than ten security features on business checks which include: erasure protection, chemically sensitive paper, microprint border, and invisible fluorescent fibers. A padlock icon printed on the check also warns potential criminals of the security features, thus discouraging potential fraud. All their printed business checks are compatible with over 7000 financial institutions in the U.S.
3. Checks are easy to use
Several check formats are available to fit the operations of a business: manual check books and 3-to-a-page checks require only a pen, while continuous and laser checks can be used with an accounting software. Compatibility with software and technology is important for a small businesses to consider when looking for business check printing. Continuous checks fit into a dot matrix or tractor feed printer. Laser checks are compatible with both laser and inkjet printers. Computer business checks are compatible with most accounting software available today.
4. Checks are customizable
Business check printing offers businesses several options to customize their checks, and there are significantly more options than their banks generally offer. Business checks can be customized to match any company's brand with the option to add a logo, choose a check color, and add any other information to fit the company's image. Companies can even order completely custom business checks with their own design to better fit their specific needs.
Business checks offer small businesses convenience and security when paying their employees and suppliers. They are just one more way a company can establish their brand while protecting themselves against fraud.
Founded in 2003, Smart Resolution is an online printing company that offers complete solutions for small businesses seeking value, convenience and professionalism. With a user friendly website and the latest trends in technology, they aim for a growing number of customers to elect them as the online printing company of their choice.