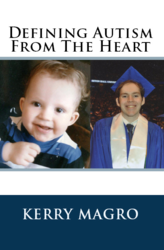 "At the end of the day, I never wanted autism to define me. I wanted to define autism in everything I did with my life. I can only hope those, regardless of having autism or not can go out to live their lives and their journeys in the way they see it."
(PRWEB) July 08, 2013
Kerry Magro has experienced national acclaim as a disability advocate. Released today on Amazon, Kerry's self-published book, "Defining Autism From The Heart: From Nonverbal to National Speaker" tells the story of his journey through his inspiring verses and essays.
The story in itself is remarkable for someone who was nonverbal until he was two and a half and was in daily sensory overload. He got kicked out of two preschools because the teachers said they couldn't handle him. When he was diagnosed with autism at 4 as well as half-dozen other disorders, they could not have predicted what Kerry has been able to accomplish.
The now 25-year-old NJ native is a recent Masters Graduate, Non-Profit Founder, and recent consultant for the motion picture Joyful Noise which earned over 30 million dollars in the United States! Kerry has indeed embraced both the challenges and successes of autism. Kerry today calls them "constraints and opportunities". Kerry likes to say he has turned his disability into an A-Bility and today can add the title of author to his resume.
Kerry who wants to write 30 books by 30 years of age hopes this book will be the first of many to help our community.
"When I was younger I wish I had role models to look up to who were on the spectrum. Now that I'm an adult I want to help pave the way for the future generations of kids on the spectrum and to let them know that they aren't alone out there." Kerry said.
"One of the main things I hope to teach others is that autism isn't a disease. That's the big thing. Sure we may have some differences but that shouldn't be discouraged. We all are a little different from the next person we are going to meet."
Autism today is one of the fastest growing neurological/developmental disorders in the United States. Over 1.5 million Americans have autism with over 500,000 children with autism who will reach adulthood within the next decade.
"The numbers for autism are constantly growing while our spectrum also continues to grow in terms of diversity," Kerry added. "Supports need to be put in place for our loved ones to thrive, and that means all of us ranging from the most severely affected to the least severely affected by autism."
This topic, in particular, has been one Kerry has included in many of his speaking engagements. Kerry has spoken at over 150 conferences and events around the world since he started as a national speaker almost two years ago. One of his most asked about presentation's, "Defining Autism: From Nonverbal to National Speaker" was a main theme for his book.
"At the end of the day, I never wanted autism to define me. I wanted to define autism in everything I did with my life. I can only hope those, regardless of having autism or not can go out to live their lives and their journeys in the way they see it."
For more on Kerry and purchasing his book you can read more on his Amazon page here. For speaking inquires Kerry can be contacted by email here.