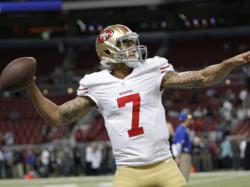 San Francisco, California (PRWEB) July 06, 2013
San Francisco's starting quarterback Colin Kaepernick became a very famous name this past season, and in just ten starts. His breakout season engraved his now famous name into the thoughts of not only 49ers fans, but all sports fans. The third year quarterback had such a great season in 2012 that he has been nominated for an ESPY award for the "Best Breakthrough Athlete". The ESPY's will air on July 17th and you can vote for Kaepernick up until that night. Although it seems he should receive the award without doubt, Kaepernick does face some serious competition. Also in the voting is rival Russell Wilson of the Seattle Seahawks, the 49ers foe and neighbors. He will also be up against Heisman Trophy winner Johnny Manziel and two MLB players, Mike Trout and Yasiel Puig.
It is hard to point out just one great moment from Kaepernick in his 2012 season. In his first NFL start, the youngster went 16-of-23 for 243 passing yards and two passing scores in a win over the Chicago Bears. He then went on to win six of his next nine starts, and eventually led his team to the Super Bowl against the Baltimore Ravens. Although it was a well-fought game, the 49ers fell to the Ravens in the end. Throughout the season he also had some well deserved wins against top teams, including the Patriots and Saints, and defeated the Packers and Falcons in the playoffs. To ensure his win in the ESPY's, go online to vote for Colin Kaepernick in his respective category. To purchase tickets to watch the rising star continue to succeed, visit http://www.49ers-Tickets.net. Customers can find great customer service and a social media hub to stay connected and engaged.