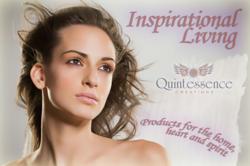 This option allows for customers to send packages to their loved ones in other countries, as well as those in the armed forces.
Gurnee, IL (PRWEB) July 08, 2013
In an effort to provide more options for our customers, Quintessence Creations, a specialty online retailer of home décor products, has partnered with International Checkout, a leader in their field. Founders of the e-commerce site are now offering shipment to all countries.
When Quintessence Creations launched their e-commerce site in September of 2006, their focus was on continental USA. What they didn't realize, however, was how interactions with their online customers would change many years later. They have seen many abandoned shopping carts due to their inability to handle international shipments.
"This option allows for customers to send packages to their loved ones in other countries, as well as those in the armed forces. And it invites international customers to place orders and pay in their own currency," says Nancy Rose, CEO/Co-Owner of Quintessence Creations.
The company uses Volusion as their e-commerce site. This has allowed them to easily integrate their new international shipping partner with just a few simple changes. The shipping company handles all the logistics, including duties and taxes with a seamless interface.
"We can no longer wait to fulfill international orders. We are very happy to have partnered with a company that excels in working with small businesses that will also meet and exceed customer's expectations. This also provides shipment tracking capabilities so you know where your order is every step of the way," says COO/Co-Owner Lori Merritt.
Customers will find that Quintessence Creations carries a variety of products and decorations, including angel decorations and mystical art prints that embrace angels, fairies and animals. Visitors to the site will also find fragrant, reiki-charged essential oil candles, some of which include affirmations. The company continually looks for additions to its line of products.
Quintessence Creations intends to utilize the partnering companies that are best for its customers. Through comprehensive review of Volusion's new partners and listening to their customers, the growing retailer is well on its way to becoming a recognized name in the home décor industry.
About Quintessence Creations
Quintessence Creations was co-founded by Nancy Schilli and Lori Merritt in 2006. Located in Gurnee, Illinois, Quintessence Creations is an inspirational home décor.