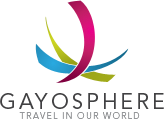 Site Visitors Earn Points for Visits, Log Ins, Reviews, and More at http://www.gayosphere.com.
New York, NY (PRWEB) July 05, 2013
Scouting the hottest gay-welcoming hotels, restaurants, bars, shops and more in cities around the world now has its rewards. Gayosphere.com is launching a new program to award site visitors points that can be redeemed resort stays, restaurants, show tickets and other prizes.
Visitors to http://www.Gayosphere.com earn points by simply participating in typical community activities such as visiting the website, creating a profile, logging in, posting a review and commenting on a blog post. Prizes include restaurant gift certificates, show tickets, even hotel and resort weekends. As few as 1250 points earn a reward.
"We've been mapping the gay and lesbian travel scene for decades. Now, it's time to reward all those who live in our world," says Alan Beck, president of parent company Columbia FunMaps.
Gayosphere.com was founded by Beck, developer of FunMaps and a pioneer in gay-welcoming travel.
"There are plenty of resources promoting 'gay-friendly' towns and establishments. But I often find that these places are not at all as represented, so I created my own UNBIASED review site," says Beck. "I have personally visited all the places on our site—every locale, hotel, restaurant, club, bar, shop, spa and attraction. If a place exhibits even the remotest bias, they don't get included."
"This program also allows our advertisers to say, 'Come in. You're welcome here. In fact, we want to give you a little incentive to show you how much we value your business.'"
Gayosphere.com provides overviews of more than 100 towns in the U.S., Canada and other select countries. Each profile contains recommendations for gay-welcoming places to stay, eat, shop, party and experience local culture.
Travelers can download maps pinpointing locations of recommended places. A list of frequently updated gay resources and upcoming events in each locale is also included.
Beck continues to build the site, adding content and photos for a more in-depth look at each location, exclusive deals and a community aspect where users can share experiences, make recommendations and connect with fellow travelers.
For more information, visit http://www.gayosphere.com.
About Gayosphere.com
Gayosphere.com provides gay and lesbian travelers honest and unbiased reviews of gay-friendly hotels, restaurants, shops, clubs, bars, spas, attractions and more in select cities around the world. Founded by Alan Beck Gayosphere.com enables gay travelers to confidently plan their travel by identifying vacation destinations where gays and lesbians can be themselves, meet new friends and social contacts and be accepted.