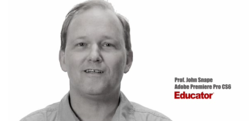 Premiere Elements 11 makes video editing even simpler than ever through its many quick and easy options.
Los Angeles, CA (PRWEB) July 08, 2013
Educator.com's Premiere Elements 11 software training course is now available on the site for everyone to learn Adobe's most affordable user-friendly video editing software.
Premiere Elements 11 makes video editing even simpler than ever through its many quick and easy options. After six hours worth of insightful lessons with Professor Snape, anyone can produce professional quality home movies, video projects, and presentations for any purpose. Learn how to edit videos, utilize transitions, adjust audio, and even create Blu-rays for the viewing pleasure of your family and friends.
The Premiere Elements 11 course along with its professional counterpart Premiere Pro CS6 is taught by Adobe Certified Professor John Snape, a passionate photographer, videographer, and teacher. He presents his Premiere Elements savvy through clear explanations, real-life projects, and meaningful examples in a friendly conversational style. His instruction guides your creative side through the ins-and-outs of this intelligent and innovative program.
For those looking for photo editing software, Educator.com also has a course in Photoshop Elements 11.
It is incredibly easy to access this invaluable resource and get started. Complete access to this course and Educator.com's 70+ others is available for the affordable price of $35 dollars a month. Educator.com empowers students to learn anything, anytime, anywhere. Other super saver options include a 6-month or 12-month bundle plan for $150 and $240 a year, respectively.
Educator.com is proud to provide today's scholars with advanced digital study materials that meet both their academic and financial needs. Course subjects are not limited to just software training; Educator's extensive library also includes Math, Science, Language, SAT and AP test prep, and Computer Science. New and exciting courses are frequently added. At this time, Educator's Adobe Premiere Elements 11 lessons and accompanying free sample lessons are available for immediate viewing.
###
Educator.com pairs students with the best university professors and educators in the country. Educator's goal is to provide high school, college, and professional students with a variety of academic subjects in an online video format that is affordable, accessible, effective, and comprehensive.
The most effective way to improve education is to have the best teachers teach. With the best instructor in a subject, learning anything is possible. Every student deserves an excellent education regardless of geographic location or socioeconomic status and with Educator.com's affordable pricing everyone can access the site's complete content. For more information about the company please visit the About Us Page.