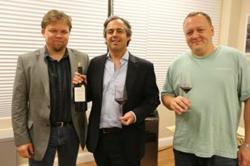 Vienna, VA (PRWEB) July 07, 2013
Classe Wines has just received a shipment of 2007 Dona Matilde Douro Reserva, an excellent red wine from the Douro Valley region of Portugal. This wine, which has earned an average score from experts of 87 out of 100, is excellent for drinking now, and expected to continue aging well for the next several years.
2007 Dona Matilde Douro Reserva is a high quality Portuguese red wine that is produced from a blend of grapes. This blend consists of fifty percent Touriga Nacional grapes, and also includes thirty percent Touriga Franca grapes, with the remainder consisting of a "field blend" of grapes. The largest portion of this field blend is Tinta Amerela. This excellent blend produces a strong aroma of blackberries and plums. The taste is complemented by the oak barrels in which it is stored which produce a smokiness to the taste that is not found in many types of Portuguese red wine. The experts were divided over the taste, but many described it as having a game type taste. They considered its flavors and tannins to be balanced well, and the resulting wine is pared well with a wide variety of dishes.
The excellent taste of this wine is a reflection of the skill with which it is produced. It is produced at the Dona Matilde Winery in the Douro Valley of Spain which is owned by Manuel de Barros, who is the grandson of founder Manoel De Barros who purchased the winery in 1927 and named it after his wife Matilde. It is grown in the Douro Valley region of Portugal.
2007 Dona Matilde Douro Reserva is available from classewines.com at a price of $37.95 per bottle, $223.25 per half case, and $441.74 per case. To order, call 1-800-793-9141 or visit ClasseWines.com today.
Contact
Georgiy Kharchenko
1-800-793-9141