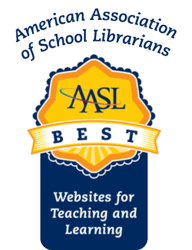 "We are proud to be a partner to educators and parents to engage, excite and encourage this generation of digital kids to become stronger readers."
New York, New York (PRWEB) July 09, 2013
BiblioNasium was honored with a prestigious 'Best Website for Teaching and Learning' award by the American Association of School Librarians (AASL). BiblioNasium is a free, safe and secure social networking website that promotes literacy and extends the independent reading activities of young readers.
The AASL presents this award annually to websites it believes "foster the qualities of innovation, creativity, active participation, and collaboration. They are free, Web-based sites that are user friendly and encourage a community of learners to explore and discover. They also provide a foundation to support AASL's Standards for the 21st-Century Learner." The awards are based on feedback and nominations from AASL members.
The awards were announced in Chicago at the annual conference of the American Library Association (ALA). The websites, chosen by a respected expert committee, are considered "the best of the best."
"We at BiblioNasium are so honored to be recognized by the AASL in this way", said CEO Marjan Ghara. "We are proud to be a partner to educators and parents to engage, excite and encourage this generation of digital kids to become stronger readers."
BiblioNasium is specially designed for children (K-8th grade), with a child-friendly, intuitive and secure interface where kids can share and exchange book reviews and recommendations with friends, under the supervision and support of librarians, teachers and parents. It enables and encourages book conversations and recommendations.
Adele Schwartz, Ed.D. BiblioNasium's Chief Education Advocate adds, "We have created a virtual reading village to help children discover kids books and share books reviews that suit their interests and their reading capabilities. Children can also log their reading online, participate in reading challenges and win virtual rewards. We want children to know that reading can be a fun and social activity".
About BiblioNasium
BiblioNasium, Where Kids Flex Their Reading Muscles, is a social networking site where young readers connect with friends, teachers/librarians and parents to explore, share book reviews and find good reads. Among features that are specially created for young readers are BiblioNasium's online reading logs, reading challenges and virtual rewards for completing the challenges. Parents and teachers especially trust the built-in privacy and child protection measures. BiblioNasium also seamlessly integrates Lexile® Reading Levels for tens of thousands of books so that site users can select kids books that are the right reading level and most appropriate "fit" for each individual child.
For more information, visit http://www.biblionasium.com or contact info(at)biblionasium(dot)com.
About AASL
The American Association of School Librarians (AASL) is the only national professional membership organization dedicated to advocating excellence, facilitating change and developing leaders in the school library field. It focuses on the needs of school librarians and the school library community and promotes the improvement and extension of library services in elementary and secondary schools as a means of strengthening the total education program. AASL is a division of the American Library Association.
For further information about the AASL please visit: http://www.ala.org/aasl/about