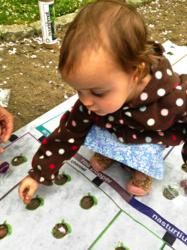 San Francisco, CA (PRWEB) July 08, 2013
Earth Starter, the creator of the Nourishmat Garden System, has launched a crowdfunding campaign on Kickstarter.com in order to fund their gardening kits and development. The company needs to raise at least $70,000 by the end of July in order to meet production and distribution goals. All Nourishmat gardens will be manufactured in the United States.
Phil Weiner and John Gorby, co-founders of Earth Starter and inventors of the Nourishmat gardens, are on a mission to change people's perception of homegrown food and help them learn how to grow their own. Families and foodies are often overwhelmed at the thought of growing their own food because they don't know where to start or when to grow. In fact, most people don't even think they have the time or space to start a garden.
The 4' x 6' Nourishmat Garden System, along with its cousin, the 2' x 6' Herbmat Garden System, help people utilize a small space to start veggies, herbs, and flowers. The mat rolls out on top of soil with a grid showing where each plant should be placed in order to grow symbiotically and includes a guide that details when to plant different types of seeds. The plants come in the form of 82 pre-planted seedballs: clay, compost, chili-powder and non-GMO seeds rolled together for easy germination and less soil disruption. They can simply be pressed into the ground.
Additionally, the variety of seeds included is carefully chosen to create a balanced garden ecosystem: specific flowers attract helpful bugs for specific plants. Nourishmat gardens also hook easily to a hose for the proper amount of watering per day, and blocks weeds from poking through the garden. It was recently awarded Dwell on Design's Design Material Awards a week before the Kickstarter launched.
Earth Starter's Kickstarter campaign can be found at here and rewards for pledging include t-shirts, Nourishmat and Herbmat gardens, custom gardens, and a private concert and stay in Washington, DC, among other goods.
The Nourishmat has already made an appearance in the classroom at a private international school in Manassas, Virginia. Students at the school received two Nourishmat school garden kits and learned how to plant, care for, and harvest the plants as part of a sustainability, science and healthy food curriculum. Weiner and Gorby want to make the Nourishmat kit readily available to teachers and classrooms so that kids can start learning the importance of healthy, fresh food at a young age.
About Earth Starter
Earth Starter is a social start-up based in Washington, DC and founded in 2013 by Nourishmat creators Phil Weiner and John Gorby. Their first creation is the Nourishmat, a garden pad with seeds included to create an easy, sustainable garden ecosystem and help consumers grow their own food. Weiner currently serves as Earth Starter's CEO, while Gorby serves as the President. Together, the two have launched the Nourishmat on Kickstarter for July 2013, and afterward the mat will be sold at http://www.nourishmat.com. The Nourishmat and its seed component, seedballs, are manufactured in the United States.
# # #