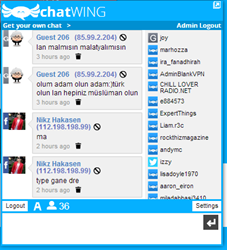 San Francisco, CA (PRWEB) July 13, 2013
One of the most important factors in today's modern era is accessibility. The most successful people know what and how to access information that can give them great advantage over competition. This is also the case with websites and blogs: the more accessible a site is, the more it generates traffic. Chatwing's latest chat software improvement allows web surfers to access the chatbox through their mobile phones; making online interaction within reach.
Travel enthusiasts are obviously people who are always on the go and are actively seeking for places to explore. Websites and blogs centered on the best vacation spots and landmarks must provide website visitors with a platform where online users can interact among each other. Chatwing chat software is an easy to install shoutbox with various customization choices for users.
Website owners will only need to do three simple steps that can be finished in just a minute; the chatbox can go live after that. Customization is easy and can be done in various ways. The size and color of the chat box can be adjusted. Hundreds of customized border designs are available on Chatwing's website. Website owners can even upload enticing photos to serve as the background image of the shoutbox and incorporate music with it.
Chatwing chatbox is highly accessible. Web users can still participate in chat discussions by using their mobile phones. Web visitors can log in providing one of the following account details- Facebook, Twitter, Gmail and Yahoo. They also have the choice to log in as guests if they want to keep their identities. Chatwing website chat can handle thousands of users while maintaining its stability. Global connectivity can be easily achieved both by the website owner and his web visitors.
Chatwing chat app is an effective inquiry tool because the website owner and blogger can promptly respond to questions and concerns that will reflect on his credibility and reliability. In line with this, Chatwing.com plans to integrate more helpful features that will assist web admins and niche bloggers improve online presence without difficulty.
About Chatwing.com
Chatwing.com specializes in the new field of live website chat software. Over years, the development team has introduced live chat widget for hundreds and thousands of blogs. The application bridges people from many parts of the world, creating global synergy through the Internet. The shout box can be installed in just seconds, and it can be used for varying purposes such as leisure and Internet marketing. It also allows a user to customize the size, color, and name of the widget.