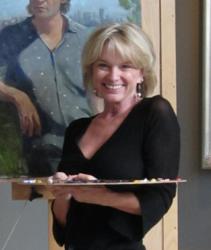 Painting judge Wells has been both a special privilege and a unique challenge...to convey her extraordinary intellect and presence, yet with the humanity she brings to every part of her life.
Miami, FL (PRWEB) July 07, 2013
As the first woman ever to hold the office of Chief Judge in the Miami District Court of Appeals system, Chief Judge Linda Ann Wells's portrait will become the fourteenth official portrait to grace the courtroom's walls.
At the traditional "Passing of the Gavel" ceremony, incoming Chief Judge- Elect Frank A. Shepherd will be sworn in by Senior Judge Alan R. Schwartz. Chief Judges serve two-year terms.
Commissioned portrait artist Chris Saper was personally selected by Judge Wells after a lengthy review of a variety of portrait painters' portfolios. Saper is nationally recognized for her expertise in painting diverse skin tones, and for her extensive body of commissioned portrait work. She is a sought-after portrait instructor, having published two books and four DVDs on the methods and principles of fine art portrait painting.
"It was a special treat for me to get to spend time with Judge Wells and her husband, and to get to see a side of her as an individual, who is smart, funny, warm and beautiful", said Saper.
Today, Saper's portraits are held in almost 400 private and corporate collections throughout the United States. Her most recent book, Classic Portrait Painting in Oils: Keys to Mastering Diverse Skin Tones was published in 2012. She will be teaching at the Corse Gallery & Atelier in Jacksonville, FL this coming September.
Saper holds a Bachelor's Degree in Fine Art and a Master's Degree in Health Care Administration.