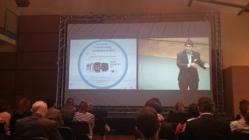 "Italy has made history as the first country to implement an equity-based crowdfunding law that I believe is a more liberal law than the U.S. crowdfunding law, the Jumpstart Our Business Startups Act (JOBS Act)." - David Drake
(PRWEB) July 09, 2013
Crowdfunding has been changing the financial landscape of Italy since late March, when the Commissione Nazionale per le Società e la Borsa (CONSOB), the equivalent of the US Securities and Exchange Commission, submitted equity crowdfunding for public comment in Italy. The public consultation period ended on April 30.
The CONSOB was tasked by the Ministry of Economic Development (Ministero dello Sviluppo Economico, or MSE) with issuing the regulatory provisions necessary for the implementation of the bill.
And now, finally, it has been confirmed the law was just signed by the CONSOB's five commissioners (equivalent to the U.S. SEC's five commissioners). One will be able to equity crowdfund right after publication of the law in a week or so.
David Drake, founder and chairman of The Soho Loft, says, "The equity law is a huge accolade for equity crowdfunding globally. Although this won't accelerate the lethargic implementation of the US crowdfunding law under the JOBS Act, it does announce to the world that nations are acknowledging this unstoppable disruptive finance mechanism. Equity crowdfunding is responsible for only 5% of overall crowdfunding revenues globally last year and was heading for 3% in 2013 but with this law we can see this number potentially double or triple by 2014. This is a powerful announcement to the nations and regulators of the world that this is an economical and viable liberation of capital formation. A must legislative change to create jobs and stir innovation for financial leadership. Bravo Italia! Viva Italia for the world's first national-created crowdfunding equity law."
The provisions of the bill focus on innovation as a structural factor of sustainable growth, as a way to enhance the competitiveness of enterprises in Italy. The provisions introduce, for the first time, legislative frameworks that encourage the creation and growth of innovative startups.
"For now, equity crowdfunding is limited to innovative start-ups, filed in a special registry. Companies must meet some prerequisites, and be focused on the production, development or trading of innovative products or services with high technological value. But the government is wondering whether to enlarge the scope of the law to include any commercial company," says Alessandro Maria Lerro, Senior Partner at Lerro & Partners, who is a crowdfunding expert.
The law says that for general solicitation:
1. An offering must receive 5% investment by a professional investor or some specific CONSOB-registered institution to complete crowdfunding.
2. The maximum raised cannot exceed €5 million per year.
3. Individual investments must be concluded by broker-dealers to comply with anti-laundering laws and the E.U. Markets in Financial Instruments Directive (MiFID). This dictates that your investment profile match your proclivity to risk investments. But there will be an exemption for small investments.
There are positive changes to the law that we just learned:
1.Professional investors and CONSOB-registered firms need to own 5% of a crowdfunded firm after the crowdfunding and not before as previously dictated.
2.There will be MIFID exemptions for investments lower than €500; thus lowering cost and red tape.
David Drake was in Italy last month for a series of events on equity raising for small and medium businesses. At Social Media Marketing Day 2013 in Milan (where he was the only non-Italian speaker), he highlighted pockets of success and challenges all over the world, regulatory and otherwise, in raising capital for entrepreneurial startups. He also talked about the crowdfunding industry's growth at the intersection of innovations in social media and online automation.
"Italy has made history as the first country to implement an equity-based crowdfunding law that I believe is a more liberal law than the U.S. crowdfunding law, the Jumpstart Our Business Startups Act (JOBS Act). This could be one year faster than the lethargic U.S. equity crowdfunding law," Drake says.
"Our investor communities globally are calling us daily after we broke these news as collaboration is sought and learning how to implement national laws similar. This is very exciting as our global business covers all the continents today," says Drake.
The Soho Loft has been monitoring crowdfunding developments in Italy, and working with leading Italian platforms and broker-dealers, as well as with several Italian banks that are looking for strategic partners.
Reference: Il Sole 24 Ore, 5 Luglio 2013
About The Soho Loft (http://www.thesoholoft.com)
The Soho Loft is an event-driven financial media company that advances innovative investing and entrepreneurship through visionary leadership, relevant education and strategic collaboration. Major areas of focus and expertise include, but are not limited to, online investment automation, capital formation, fund structures, angel network creation, private and public partnerships, venture capital, crowdfunding, private equity and hedge funds. It is a subsidiary of LDJ Capital based in New York, whose founder and chairman, David Drake, is also a co-founder and former executive board member of the Crowdfund Intermediary Regulatory Advocates (CFIRA) and Crowdfunding Professional Association (CFPA). He is a strong advocate of financial innovation, the US JOBS Act (Jumpstart Our Business Startups Act), the Dodd-Frank Act, and other entrepreneurial, economic and investment policies through his work as an international speaker and writer.
For press inquiries, contact carmen.campo(at)thesoholoft(dot)com. To subscribe to weekly newsletter and alerts, email info@ldjcapital.com.