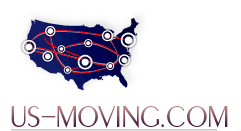 All listed are licensed and insured and deemed reputable and reliable.
US-Moving.com helps individuals and businesses get competitive pricing for all types of moving services, from professional, pre screened moving and relocation service co
(PRWEB) July 08, 2013
When moving, customers want to protect their possessions and valuable items. Even the oldest of furniture and electronics can have personal value beyond the strict commercial value of the item. US-Moving.com recently posted an article which tackles one of the most tricky and important facets of moving, that of determining the value of belongings and ensuring that the moving company has the proper amount of insurance coverage should something occur. The tip sheet explains the levels of insurance coverage that can be expected to be offered when working with reputable moving companies, and why greater coverage may be the best option, depending on the individual's belongings.
US-Moving.com stresses the importance of insurance in their article and explains the consequences of choosing to use a moving company that does not offer insurance protection for the move. All the companies listed on their online database are insured and licensed. Customers can receive a no cost moving quote from any of these companies simply by completing an online form. Within minutes, customers will receive quotes from several reputable companies.
The database of moving companies lists all types of moving service companies. There are companies which offer full service movers, self service movers and movers that offer service somewhere in between full and self service. There are companies which can assist with moving specialty items, such as art or antiques, pianos and other musical instruments. There are companies which offer packing supplies and storage facility options. All listed are licensed and insured and deemed reputable and reliable.
http://www.US-Moving.com helps individuals and businesses get competitive pricing for all types of moving services, from professional, pre screened moving and relocation service companies.