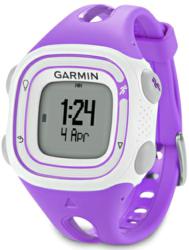 The reason this watch is popular is price versus features and Garmin's great mapping software
Bozeman, MT (PRWEB) July 08, 2013
The Garmin Forerunner 10 has been named the best hiking GPS pacing watch for 2013 at the Heart Rate Watch Company.
"A lot of people like to walk or hike and just want to know what their pace is and how far they have gone", says Rusty Squire, President of the Heart Rate Watch Company. He adds, "They don't need a $300 GPS watch to tell them that and this is where the Forerunner 10 comes in".
CYCLING FEATURES, TOO!
The Garmin Forerunner 10 can also show speed in miles per hour for cycling, along with distance, making it very versatile for outdoor enthusiasts just wanting to know pace and distance data.
The Garmin 10 has a back light, a battery indicator and a satellites acquired icon to let you know you are good to go. Anticipate about 3 1/2 to 4 hours of total battery life in GPS mode, so it isn't the choice for all day hikes or bike rides, but for most this amount of battery life works fine.
This GPS watch comes with a USB battery charging cable that also doubles as a data transfer device. Users can transfer pace and distance data to Garmin Connect online software after registering for an account.
THE KNOWING
Knowing pace and accurate distances helps push performance by comparing previous course times with current times and paces achieved. The watch also contains a Virtual pacing feature that allows users to set a pace and know how far ahead or behind pace they are, similar to other Garmin Forerunner watches and cycling computers.
"The reason this watch is popular is price versus features and Garmin's great mapping software", says Squire.
MAPS
The Forerunner 10 also produces very nice maps of your adventures that can be stored in your Garmin Connect account.
While serious athletes may want to consider one of Garmin's devices with heart rate and sensor connectivity, this watch is just fine for anyone interested in pacing and distance.
You can get a Garmin Forerunner 10 in a variety of colors including black for men, pink, green, or violet for $129.99 at the Heart Rate Watch Company.