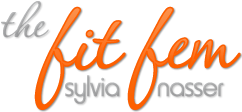 Keeping The Fun In Fitness
Hicksville, NY (PRWEB) July 08, 2013
Sylvia Nasser, CEO of Long Island's Fit Fem Studio, has created an online gym for the woman who is always on the go.
Women no longer have to deal with stresses of driving to the gym, looking for parking, waiting until equipment is free, or trying to find the "perfect" gym. The Fit Fem's Online Gym will give women effective workouts without all the hassle.
There are many benefits to working out in the privacy and comfort of one's own home.
The Fit Fem's Online Gym will save women time and will give them the freedom to exercise anytime and anywhere they want. Women will feel comfortable and won't experience the self consciousness that can come with working out in a gym.
The online gym offers an array of fun and intense workouts that are suitable for women and will help them transform their bodies. For the woman who wants to workout her entire body and burn many calories there is "Kick Some Ass Kickboxing." For the lady who wants beautiful and sculpted arms, she has the "Buh Bye Bat Wings Workout." The online gym offers something for everyone.
The classes are taught by Sylvia Nasser, The Fit Fem, and are streamed via high definition and can be accessed through all Apple devices.
The online gym will leave women lean, strong and energized.
The Fit Fem Studio
Created by Sylvia Nasser, The Fit Fem, in 2010, The Fit Fem Studio is a Long Island based company that focuses on the softer, fun, yet intense side of fitness. The Fit Fem Studio offers in home personal training, an online gym, on-demand workouts and group fitness sessions. The business focuses on getting women healthy, but having them appreciate and embrace their bodies during the process. The Fit Fem Studio has been featured on Newsday.com, EverydayHealth.com, EHealth Radio, IndieChicks.com, SimplyNutritious.com and on Fios1News.