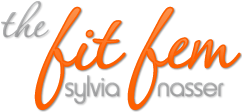 Keeping The Fun In Fitness
Hicksville, NY (PRWEB) July 10, 2013
Sylvia Nasser, CEO of the Fit Fem Studio, has launched an in-home personal training program for women on Long Island.
Nasser, The Fit Fem, or one of her experienced trainers will come to women's homes and offer fun yet intense workouts that will give women the bodies that they always dreamed of.
Eighty percent of those who start a weight-loss journey will quit and that is due to lack of motivation and also lack of education.
The Fit Fem's In-Home Personal Training Program will offer many benefits to women who are "fed up" with gyms, tired of losing weight and then gaining it back plus some, tired of all the latest fitness DVD crazes and who are really ready to change.
The program will be tailored to the individual's specific needs, it will teach women how to workout correctly; preventing injuries, it will shorten the time that participants exercise with short and intense workouts, it will offer new and exciting ways to tone the body and it will give women the motivation and confidence to reach all of their fitness goals.
The busy everyday woman will no longer have to hustle to the gym because it will be brought to her with much more to offer. Along with the personal training, trainers will offer nutritional advice as well as emotional support during the process.
The Fit Fem's In-Home Personal Training Program will make women leaner, stronger and more confident.
The Fit Fem Studio
Created by Sylvia Nasser, The Fit Fem, in 2010, The Fit Fem Studio is a Long Island-based company that focuses on the softer, fun, yet intense side of fitness. The Fit Fem Studio offers in-home personal training, an online gym, on-demand workouts and group fitness sessions. The business focuses on getting women healthy, but having them appreciate and embrace their bodies during the process. The Fit Fem Studio has been featured on Newsday.com, IndieChicks.com, EverydayHealth.com, EHealth Radio, SimplyNutritious.com and on Fios1News.