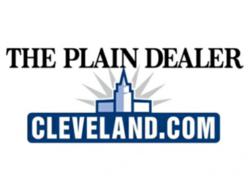 Laugh Staff promises to make wedding toasts less awkward and more memorable.
Cleveland, OH (PRWEB) July 09, 2013
Laugh Staff co-founders, Josh Womack and Cameron Amigo, sat down with Plain Dealer reporter, Janet H. Cho to talk about what Laugh Staff does, what makes a great best man speech and the packages Laugh Staff offers.
The pair talked about going to a number of weddings and hearing many speeches where it is obvious there was little preparation or the fear of public speaking set in, making the speech awkward and unmemorable.
Amigo and Womack are both stand-up comedians, and at one particular wedding, Amigo was asked to tell some jokes after the best man speech to put the audience back in a lighter place. Amigo did such a good job, he was approached by someone who was going to be a best man, and asked Amigo if he could help him make a funny best man speech. From there, Laugh Staff was born.
Although there are other websites with a best man speech template and examples on YouTube, Laugh Staff works to help their clients write a personalized, funny and memorable best man speech. "The first and worst mistake people make is copying a speech off the Internet," said Amigo. "Not only is it insincere, it's hard to memorize someone else's story." When clients come to Laugh Staff, they are provided a questionnaire to get as much information as possible so the flow of the speech is natural.
Laugh Staff launched its services in March of 2013 with a host of comedians and professional writers all over the country. The services are especially appealing to men. Michael Schwabe, director of digital strategy for Akhia, felt that there are many more options for women with Pinterest and wedding websites, but Laugh Staff is an idea that's "great, coming from a man's perspective."
Since its launch, Laugh Staff has had over 25 clients ranging from Cleveland to Australia. Laugh Staff also has its own website, Facebook, Twitter and Pinterest pages, but word-of-mouth seems to be the preferred way they have received business. The reactions have all been positive. Cleveland sisters Emily Gibbons and Laura Sokolowski became Laugh Staff clients when their sister, Diana, got married May 25. After receiving help from Womack on their maid of honor speech, they had the 125 guests laughing uncontrollably, and believe they "outdid the best man."
To read the entire article please visit http://www.cleveland.com
For more information about Laugh Staff, Inc. visit http://www.laughstaff.com, call 740-706-6690 or email info(at)laughstaff(dot)com.
About Laugh Staff, Inc:
Laugh Staff, Inc. was founded in 2012 by a team of comedians and writers in Cleveland, Ohio. Laugh Staff helps their clients with best man speeches as well as providing best man speech examples on their blog. They assist best men and maids of honor in speech-editing, speech writing, and provide training on speech delivery. Recognizing the importance of the big day, Laugh Staff's professional comedians work with best men and maids of honor to ensure they make a lasting impression.