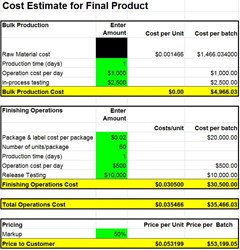 Recalculating costs based on batch size is simple to do.
Cary, NC (PRWEB) July 16, 2013
Many of InstantGMP's customers are making various products at different manufacturing batch sizes where they need to figure out how much to charge for their private label or contract manufacturing work. The staff at InstantGMP worked with the formulation development experts at PharmaDirections to design a Cost and Pricing Model that can be used for dietary supplement or pharmaceutical contract manufacturing. The model is included in the electronic batch records of the InstantGMP™ MES manufacturing execution system.
There are several examples of the Cost and Pricing Models in the Master Manufacturing Formulas section of the InstantGMP Resource Center. Here you can find commercial scale master formulas for common dietary supplement products such as Calcium Tablets, Chewable Vitamin C Tablets and Vitamin B Complex Tablets.
The Cost and Pricing Model makes it easy to update formulations and to quickly get revised estimates of manufacturing costs and of prices to charge to customers. It allows you to change ingredients or raw materials and instantly get updated costs and pricing. It lets you compare costs and pricing at different facilities or with different manufacturing processes and then calculate costs and pricing at any scale of production. Changing the batch size will calculate updated amounts for the Bill of Materials and will estimate new costs and prices.
About PharmaDirections:
PharmaDirections, Inc. is a pharmaceutical project management and consulting group focused on CMC (Chemistry, Manufacturing and Controls), formulation development, preclinical and regulatory affairs. They use a mix of technical expertise, software and proprietary tools, such as GastroPlus, when inventing new intellectual property for clients or developing formulations that solve difficult problems.
About InstantGMP™
InstantGMP™ develops web-based manufacturing software that meets GMP and 21 CFR Part 11 requirements. The software systems were built using a quality by design approach where the standard operating procedures were written simultaneously with the program. The software streamlines every step of the manufacturing process to produce products with electronic batch records. InstantGMP™ MES is a manufacturing execution system with electronic batch records and InstantGMP-Lite™ EBR is an electronic batch record software system.