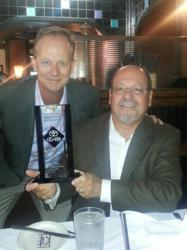 Trade Technologies is a valued partner in our export business and we are pleased to honor them for their exceptional efforts to support our business processes
Austin, TX (PRWEB) July 08, 2013
On June 20, 2013, Trade Technologies, the global leader in international trade document solutions, was presented with the 2012 Logistics Excellence Award for Service – an honor given in recognition of Trade Technologies' exceptional efforts to manage Toyota Logistics Services' export letter of credit and legalization processes.
"We are honored and thrilled to receive this award for excellence in service from a company as accomplished as Toyota," said Kirk Lundburg, CEO of Trade Technologies. "We are also grateful to our valued customer Toyota Logistics Services for their continued loyalty and support over the past 8 years."
"Trade Technologies is a valued partner in our export business and we are pleased to honor them for their exceptional efforts to support our business processes," said Scott Heimer, Export Operations, Logistics Manager at Toyota Logistics Services.
About Trade Technologies
Founded in 1999, Trade Technologies (http://www.tradetechnologies.com) is the largest global provider of outsourced trade document services and software. From its 13 offices in Asia, Europe and North America, Trade Technologies provides leading exporters, freight forwarders and international trade banks with trade document solutions, training and consulting.
The company's web-based Global Trade Management platform and outsourced services enable customers to streamline their operations, save money, accelerate payments, and eliminate discrepancies traditionally involved in international letter of credit, documentary collections and open account transactions. More than 1,200 exporters, global trade banks and freight forwarders depend on Trade Technologies' services to process over $9 billion in international trade transactions each year. Trade Technologies was recently voted the "Best Trade Tech Solutions Company" in 2012 by readers of Trade Finance Magazine. In 2011, the company was awarded a patent on the Trade Technologies software platform and process, and won the Presidential "E" Award for Exports by the U.S. Department of Commerce, the highest recognition any U.S. entity may receive for supporting export growth.
Media Contact, for Trade Technologies
Melissa Freeman
512-327-9996
mfreeman(at)tradetechnologies(dot)com