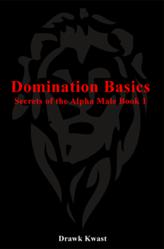 Amazon Best Seller in Men's Gender Studies
Las Vegas, NV (PRWEB) July 09, 2013
"Domination Basics: Secrets of the Alpha Male Book 1" by Drawk Kwast has arrived on Amazon's Men's Gender Studies best seller list. This book, the first in a series of nine, unapologetically tramples all politically correct ideals as it instructs young male readers in reclaiming their power as men. It focuses on the basic yet very necessary core mindsets a young man must possess as he sets out to claim a life of money, women and power. "Domination Basics" is divided into three sections: Social Basics, Business Basics and Power Basics. Kwast's work is rooted neuro-linguistic programming, evolutionary psychology and studies in social dynamics.
Feedback from critics has called Kwast egotistical, sexist and narcissistic, but few argue with the effectiveness of his methods. Feedback from feminist and religious organizations has been even less kind.
More information is available at:
http://www.drawkkwast.com/domination-basics-secrets-of-the-alpha-male-book-1
About the Author:
Drawk Kwast is a living example of the modern-day alpha male. As an entrepreneur, martial artist and master of seduction, his methods have been called unconventional and even subversive. He makes no apologies as he teaches men how to dominate the competition at work, attract the most desirable women on the planet, and ultimately achieve a fulfilling life. Forbes, USA Today, Details, Worth, and Entrepreneur have all recognized his ability to transform clients' desires into reality. He offers a 60-day, Total Experience Immersion training program at a cost of $10,000.00 to those seeking the ultimate alpha male lifestyle.