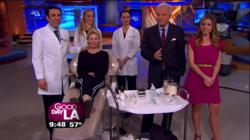 Los Angeles, California (PRWEB) July 10, 2013
According to a July 1, 2013 article from The Atlantic, titled "No More Stigma Against Plastic Surgery, Please," millions of women and even plenty of men have sought augmentations, Botox,fillers, alterations, and more. Celebrities, political and public figures, and everyone in between are starting to jump on the bandwagon and sometimes even promoting these procedures. (go to goo.gl/4IkUP)
"Times have certainly changed," says Dr. Simon Ourian, Medical Director of Epione Beverly Hills. "Most of my celebrity clients still prefer to maintain their privacy about the treatments I provide, but others have no problem announcing to the world the aesthetic procedures they've received."
According to the article, over thirty years ago, Betty Ford became the very first woman to get plastic surgery done and proudly admit it while living in the White House. After conquering a handful of addictions and undergoing a mastectomy, Mrs. Ford had decided that she wanted a "fresh new face" to pair with her "beautiful new life". With a quick neck tightening treatment and a little work to banish the puffiness from beneath her eyes, she became a trendsetter for middle-aged women across the nation.
A growing trend, according to the article, is that the goal of many women is not necessarily to look younger, but more to look refreshed and to more accurately reflect how they feel on the inside. Considering the technological advancements in aesthetic medicine available today, men and women alike are finding the confidence to admit what they dislike about themselves and the willingness to do something about it. In 2012, America saw a 106% increase in money spent on plastic surgery compared to what was spent in 2011, providing clear evidence of a society that is accepting plastic surgery.
"I expect the trend towards openness about receiving aesthetic treatments to continue," says Dr. Ourian, "with seeing a cosmetic dermatologist becoming as common as any other medical check-up."
Dr. Ourian has been a pioneer in laser technology and non-invasive aesthetic procedures including Restylane, Juvéderm, Radiesse and Sculptra. These treatments are used for the correction or reversal of a variety of conditions such as acne, acne scars, skin discoloration, wrinkles, stretch marks, varicose veins, cellulite, and others. More information about changing attitudes towards plastic surgery can be found on Epione's website.