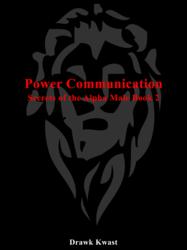 Amazon Best Seller in Men's Gender Studies
Las Vegas, NV (PRWEB) July 12, 2013
"Power Communication: Secrets of the Alpha Male Book 2" by Drawk Kwast has earned its place on Amazon's Men's Gender Studies best seller list. The second in the "Secrets of the Alpha Male" series of nine books, this is a high-octane mixture of street smarts, evolutionary psychology, neuro-linguistic programming and pure testosterone. It provides a detailed eight-week, systematic approach to learning the communication skills of a true alpha male - a man who radiates confidence in such abundance that the biggest paychecks and sexiest women find him. The book's eight sections focus on linguistics, paralinguistics, the art of physical space, eye contact, turning questions into statements, limited sensory communication, humor and congruency.
Reviews on Amazon.com include:
"I've read a few of Drawk's books now and I have been thoroughly impressed by all of them. It really is a behind the scenes look into the minds of people that are not only successful with women, but are successful in life! A man's ability to be confident, certain, and cool at all times will ultimately determine his level of success. Follow the advice in this book and you're sure to elevate your life!"
"Drawk has a no-fluff writing style so you won't spend your time wading through pages and pages of preamble, which I especially enjoy. His books are the kind you read, stop, think, absorb, and re-read. You'll start trying out the techniques and see immediate results in the people around you and wonder what you may have glossed over, so you're back to reading again. Really amazing stuff."
More information is available at:
http://www.drawkkwast.com/power-communication-secrets-of-the-alpha-male-book-2
About the Author:
Drawk Kwast is a living example of the modern-day alpha male. As an entrepreneur, martial artist and master of seduction, his methods have been called unconventional and even subversive. He makes no apologies as he teaches men how to dominate the competition at work, attract the most desirable women on the planet, and ultimately achieve a fulfilling life. Forbes, USA Today, Details, Worth, and Entrepreneur have all recognized his ability to transform clients' desires into reality. He offers a 60-day, Total Experience Immersion training program at a cost of $10,000.00 to those seeking the ultimate alpha male lifestyle.