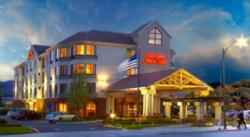 The key driving factor behind all of our services is customer satisfaction.
San Francisco, CA (PRWEB) July 09, 2013
Greenbee Parking, the dynamic young airport parking solutions company, has nominated Hampton Inn & Suites as their preferred hotel partner in San Francisco (SFO). In a very short time, the company has created a name for itself as an affordable and efficient service provider. This partnership will pave the way for further benefits for their customers who regularly use the San Francisco (SFO) airport. As one of the busiest airports in the country, SFO sees very heavy ground traffic which puts enormous pressure on the authorities to provide adequate parking. Location and scarcity of space have both contributed to high parking prices, which has been a major issue with travelers in the past few years. With this partnership, Greenbee can now offer amazing San Francisco airport parking rates to customers which can beat all competitive prices hands down.
"The key driving factor behind all of our services is customer satisfaction," said Christine Cooper – Marketing Coordinator, Greenbee Parking. "We are constantly working on new ways to improve the traveler experience when it comes to airport parking. For busy airports like SFO it is a benefit to have an alternate parking location where travelers can park at leisure, in a secure spot, before they carry on with the travel plans. Working in tandem with our partners we can now offer discounted San Francisco airport parking rates to all, which will go a long way to ease budget worries for all kinds of travel."
San Francisco Airport Parking Information
San Francisco is one of the top global destinations, both for business and leisure travel. It also acts a major gateway to most California hotspots which adds to the passenger as well as freight traffic volume. It ranks among the top 20 busiest airports in the world and among the top 10 in the country. With a high volume of domestic and international flights operating on a daily basis through this airport, there is also heavy ground traffic that needs to be taken care of. Despite numerous public transport options, most passengers prefer to use their own vehicles on their way in or out of SFO. While authorities are constantly trying to come up with new ways to beat the congestion, parking woes have been a constant bone of contention between them and travelers using SFO.
It is only with the advent of service providers like Greenbee Parking that there has some respite for the travelers. Greenbee's innovative deals and services offer a wide range of options through which one can get assured bookings and park at a secure location, even long term, whenever needed. Partnerships like the one they have just announced with Hampton Inn & Suites in San Francisco (SFO) will allow customers to park at the hotel premises without having to book rooms here. A dedicated shuttle service is also at hand to drop and pick up passengers from the airport, all at very affordable San Francisco airport parking rates.
The Greenbee Airport Parking Solution
Greenbee Parking has effectively bridged the gap between parking problems and solutions at both airports and major seaports. They have tied up with major hotels for available parking spaces at discounted rates which they offer their customers across the nation.
All that travelers need to do is visit Greenbeeparking, select their city or airport of choice, choose the parking spot and pay through a secured payment gateway. There is a comprehensive list of airports and parking spots to choose from. Greenbee's wide network makes it possible for every customer who logs in to find a solution. Now with options like cheap San Francisco airport parking rates, travelers can save more than 75% of their parking costs.
About Greenbee Parking
Greenbee Parking is the nation's most innovative long term parking company, with a new way of making long term parking affordable. The company is rapidly adding new airports to its network.