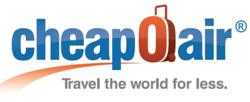 New York (PRWEB) July 08, 2013
Leading travel website CheapOair announced today a partnership with Interjet, the second-largest air carrier in Mexico, to offer its customers access to the airline's full flight and fare inventory. Under the concept of "high efficiency" the airline serves Mexico's top destinations, giving CheapOair customers an additional airline option for flying to and within the country.
With this partnership, CheapOair brings another convenient option to customers seeking value when traveling to or from Mexico. Serving 33 of the country's top destinations, CheapOair customers now have greater choice when planning and booking travel to points like Cancun, Mexico City and Guadalajara, all of which fall within the 10 most popularly booked international destinations on CheapOair.
"As the demand for international travel has grown, so has the need to provide our customers with additional travel options when booking, making this partnership with Interjet extremely valuable," said Sam Jain, CEO at CheapOair. "Our customers traveling from major cities across the United States will now enjoy the option to fly on Interjet, which will provide them not only with great deals, but also great service."
An official at Interjet said, "Interjet is pleased to expand its reach to customers in the United States by partnering with CheapOair, and parent company Fareportal. As CheapOair is a top five online travel agency, Interjet is making its value-focused products available to a greater share of U.S. travelers."
Recently, CheapOair launched a new site for Spanish-speaking customers to book flights in their native language. Customers can now access Interjet inventory and book flights directly by visiting http://www.cheapoair.com, or http://www.cheapoair.com/es to book flights in Spanish, making booking easy and hassle-free for customers worldwide.
About CheapOair
CheapOair.com is a top travel website for millions of travelers who expect more for less. CheapOair scans over 450 airlines in seconds to return guaranteed low prices on flights, hotels, car rentals and vacation packages, making planning and booking trips easy and hassle-free. With 24-hour support by phone and live chat, award-winning apps for iPhone and Android, and travel tips on Facebook and Twitter, CheapOair makes affordable travel possible anytime, anywhere. Book travel on http://www.cheapoair.com or call 1-800-566-2345.
About Interjet
Interjet is a 100% Mexican airline which, in December 2012, celebrated its 7th anniversary by fulfilling a corporate commitment to provide high-quality air travel at an affordable price. Its current fleet consists of 37 state-of-the-art Airbus A320 aircraft with the latest in aeronautical technology. They are also the only aircraft of their kind in Latin America that are equipped with external cameras, which allow the passengers to see live take-off and landing from their seats. Interjet operates over 150 daily flights on 43 business and pleasure routes, covering 25 destinations in Mexico and 8 international destinations – Guatemala, Havana, San Antonio, Miami, San José (Costa Rica), New York, Orange County and Las Vegas.
Interjet's network also offers excellent connections to other destinations at the airport in Mexico City. For further information and reservations, consult http://www.interjet.com or call 866-285-9525.