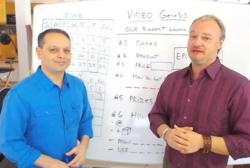 ...If you fail to put your message in front of your market it doesn't matter how well your video converts...
Salt Lake City, Utah (PRWEB) July 08, 2013
IMSoup and its publisher Mark Olson have announced a bonus for its readers who buy the Video Genesis training program during its launch period beginning July 9th.
Video Genesis is a comprehensive video marketing training course released by Andy Jenkins and Mike Filsaime. This course includes what marketers and entrepreneurs need to make amazing marketing videos, including everything from the set-up to the message to the technical know how.
In conjunction with the release of this product, IMSoup.com will be releasing a Video Genesis Bonus package to address the one hole in the otherwise superb Video Genesis product.
Video Genesis may well be the best training ever released on scripting and making marketing videos, but it leaves out all mention of how to drive traffic to videos.
If marketers fail to put their message in front of their market it doesn't matter how well their video converts.
Because of that, IMSoup publisher Mark Olson has put together a huge bonus of his personal training, software and services that will help marketers put their videos at the top of the YouTube and Google Video rankings in even the toughest niches to ensure their videos receive a steady flow of profitable traffic.
The IMSoup.com Video Genesis bonus includes Olson's best selling TubeBlueprint, a six month subscription to a service that all but guarantees top rankings for videos, two of Olson's private software tools, and more.
The product includes a comprehensive video ranking course including Tubeblueprint, Tubetracker, a Press Release Package, and more. This bonus product is designed to be the 'missing piece' of Video Genesis, and allow customers to take their videos to the next level.
Complete details of the IMSoup.com Video Genesis bonus will be released on July 9th prior to the Video Genesis launch at this link.
About IMSoup.com:
IMSoup is an Internet Marketing resource devoted to bringing customers the best and newest internet marketing news. Check back for more information about Video Genesis and other exciting products.