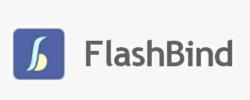 FlashBind gives consumers access to a network of trusted providers...
Manalapan, NJ (PRWEB) July 08, 2013
New Jersey-based FlashBind announces the launch of its unique location-based mobile platform designed to connect consumers with the right service providers. FlashBind will help solve problems faced by both consumers and providers, giving consumers access to the right contractors, accountants, tutors, doctors, and more.
"Today, people have to take a big leap of faith when they want to use contractors for home services," said Ratan Bajpai, co-founder of FlashBind. "Even finding reliable providers such as lawyers, dentists, and tutors is a daunting task. There are traditional service-listing websites which provide a list of providers and reviews. But most of the time consumers cannot verify the authenticity of such reviews."
FlashBind gives consumers access to a network of trusted providers recommended by friends, family, colleagues, and extended social circle. This network can be accessed on a consumer's smartphone, the company points out, making it more dynamic than business listings. FlashBind also indicates that more useful services can be built on top of this network.
Using FlashBind, providers connect to consumers by exchanging or forwarding smart business cards. Once connected, providers will be visible among those customer's social circles, increasing the reach of businesses while helping consumers find great services that their own friends recommend.
Unlike other services, FlashBind allows businesses to post deals, letting them reach customers directly. FlashBind cuts out the middleman, helping businesses save money by eliminating the percentage those intermediaries often take. Because of this savings, providers can give better deals to consumers. FlashBind allows providers to have the flexibility to structure deals according to their own preferences, thereby empowering them to take control of digital advertising, promotions, and offers.
One of the biggest benefits of FlashBind, the company says, is its ability to connect businesses with the right customers with their promotions or deals. Traditionally, businesses would use a broadcast-based ad model, inundating customers with unwanted content. With FlashBind, customers can filter special offers or deals based on current needs. For example, if someone is looking to get home flooring done, that person can select categories related to flooring, along with other filtering criteria. The platform then filters offers or deals related to services and products for home flooring, showing those offers on the user's phone. In this way, consumers can decide what they want to see and provider's content can then reach the right people.
FlashBind offers a location-aware mobile platform and apps that allow both consumers and businesses to connect through a trusted network, exchanging offers and requests. FlashBind's mobile platform allows consumers to find the right service providers trusted by their family and friends. It also allows service providers and business owners to grow their business by getting visibility among their customer's social connections.
For more information about the company or to get the app, visit FlashBind (http://www.flashbind.com/).