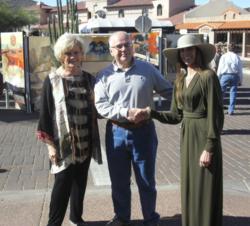 Carefree, AZ (PRWEB) July 10, 2013
The Carefree festivals are held every year: mid-January, the first week of March and first week of November. The 20th Annual Carefree Fine Art & Wine Festival in January was an overwhelming success with the largest turnout of patrons. The number of VIP patrons signing up surpassed every event, since Thunderbird Artists implemented this bonus for patrons in 2004.
"We have partnered with the Carefree Cave Creek Chamber of Commerce for the last 20 years," states Judi Combs, CEO of Thunderbird Artists. "The Town of Carefree, the residents and merchants have supported our event from the beginning and continue to do so loyally every year. Receiving the title of 'Signature Event' is a great honor and places Thunderbird Artists firmly on the map of Carefree."
The Town of Carefree, with a population 3,418, supports Thunderbird Artists' fine art festivals by closing their streets to host nationally renowned artists exhibiting and selling their juried paintings, bronzes, pottery, glass, stone, metal, clay sculptures, fine jewelry, photography and much more.
Patrons have expressed pleasure in strolling through the creative surroundings of Arizona's finest gathering of artists, whilst sipping fine wines and listening to live music. Unique specialty shops, boutiques, quality galleries, restaurants and outdoor cafés make a perfect backdrop, set in the lovely Sonoran desert of Carefree.
The 2012-2013 season was lined with success for Thunderbird Artists, who was rated one of the Top 5 Arizona Art Experiences' by Experience AZ Magazine, a biannual travel and tourism publication for Arizona. In addition, Thunderbird Artists was awarded the 'Staff Choice' for the 2012 poster competition of Sunshine Artist Magazine. Thunderbird Artists' posters hold their value as limited edition prints. Thunderbird Artists chose an image by nationally acclaimed artist, James Ayers, for this award-winning piece.
Thunderbird Artists' Scottsdale Desert Fine Art Festivals is where they began large-scale events and, shortly after the first festival in 1992, these Scottsdale festivals were listed among the top 100 festivals in the nation. The fall, winter, and spring Carefree festivals have also received top ratings, from their onset in 1993, and over the years ranked in the top 100 art festivals to the Top 10. In 1998, the prestigious Harris List published the Nation's Best Art & Craft Shows, ranking the January Carefree Fine Art, Wine & Rose Festival in the "Top 4" Fine Art events, in the Southwest Region. Since that time, Thunderbird Artists' Carefree festivals have continually been ranked by the Harris List, taking first and second place repeatedly throughout the Southwest Region.
The Thunderbird Artists festival calendar is now available for the 2013-2014-event season and begins in October. For more information about their festivals for the coming season, please visit their website:
http://www.thunderbirdartists.com or call 480-837-5637.