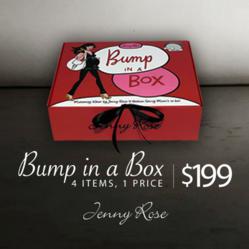 We are thrilled to have our Bump in a Box featured at Harrods.
(PRWEB) July 09, 2013
Fashion designer Jenny Rose is pleased to announce that their Bump in a Box is carried at Harrods department stores.
Recognized for its famous green bags, Harrods is one of the world's largest and most famous department stores. Located in London, they sell luxury and everyday items amidst seven floors and 330 departments.
Charles Henry Harrod opened Harrods in 1849 as a grocery store in a small village just outside of London. Charles Harrod's son, Charles, took over in 1851 and quickly expanded the store. By 1880 it was a thriving department store, offering everything from medicines and food to clothing and perfumes. Today, Harrods attracts 15 million customers each year.
The stores motto - Omna, Omnibus, Ubique – is engraved on the side of the building. Meaning "everything, for everyone, everywhere" is still true today, as shoppers can buy clothes, dinner plates, giant stuffed animals and caviar all under one roof.
"We are thrilled to have our Bump in a Box featured at Harrods," said Jenny Rose. "Harrods is one of the world's most famous stores tourist attractions in London and we are honored to be a part of it."
Founded in 1998, Jenny Rose was the first dedicated maternity and transition wear retailer in Dubai and continues to set the standard for quality and fashionable clothing for women. She hopes to reach even more people outside of Dubai through her website.
Jenny Rose has a convenient shop in the Mall of the Emirates, and clothing can also be purchased on her website at http://jennyrose.net/. She accepts Visa, MasterCard, Discover, Paypal, and even cash on delivery.