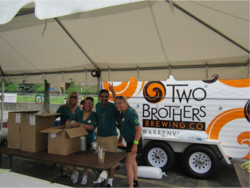 "Volunteering at the Two Brothers Summer Festival was an amazing and rewarding experience," said Rich Schumacher of Kelmscott Communications. "It takes so many volunteers to help make the event a success. We were excited about rolling up our sleeves to he
Aurora, IL (PRWEB) July 08, 2013
Volunteers from Kelmscott Communications made a difference at the 5th Annual Two Brothers Summer Festival on June 21st through 23rd in Aurora. The three-day community event hosted by Two Brothers Roundhouse centered around live music, food and drinks from the brewery and neighboring businesses. The festival weekend was designed to benefit local non-profit organizations, including the Make-A-Wish Foundation and Mutual Ground. Kelmscott Communications, a full-service integrated marketing solutions company in Aurora, served as a sponsor and volunteered several employees to support the event.
"Volunteering at the Two Brothers Summer Festival was an amazing and rewarding experience," said Rich Schumacher of Kelmscott Communications. "It takes so many volunteers to help make the event a success. We were excited about rolling up our sleeves to help with this unique event in our own community." Kelmscott staff stepped in throughout the weekend to serve guests, greet guests, and sell merchandise and tickets.
Kelmscott Communications is committed to supporting community events that make a positive difference throughout the Fox Valley area. Kelmscott also has supported the Aurora Area Interfaith Food Pantry and Coats for Kids sponsored by the Kiwanis Club of Aurora, city officials and other community groups.
About Kelmscott Communications
In business since 1936, Kelmscott Communications is a full-service marketing solutions provider with a wide range of capabilities that include: strategy, design, e-deployments, targeted mail, data management, online reporting, promotional products and traditional and large format printing. Through its proprietary Kelmscott Connect, the company combines robust production capabilities with a systematic approach to help multi-channel marketers achieve measureable results and enhanced value. The company is headquartered at 1665 Mallette Rd. in Aurora. For more information, visit http://www.kelmscott.com or call (630) 898-0800.