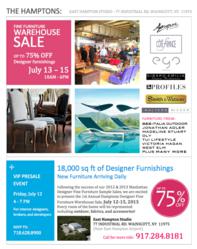 Massive Fine Furniture Sale In The Hamptons July 13-15, 2013
Wainscott, NY (PRWEB) July 08, 2013
Following the success of two winter Fine Furniture sales in New York City, White Glove Transportation, a leader in Fine furniture logistics and delivery for the design community, is holding the Inaugural Hamptons Designer Furniture Warehouse Sale, for three days from July 13th to 15th. Located at East Hampton Studio at 77 Industrial Road in Wainscott, New York, the sale is offering over 500 pieces with a discount of up to 75%. Items include designs from showrooms such as Apropos, Cote France, Ego Paris, Girard Emilia, Profiles, Smith & Watson, Walters Wicker, and many more.
To launch the event, there will be a VIP opening night presale on July 12th for top real estate brokers, interior designers and developers. "It is our goal to introduce distinguished furnishings and significant savings to a community that appreciates luxury" notes White Glove CEO Philip Beer. "We are excited that such high end showrooms are participating in this epic offering." The presale event is Friday July 12th from 4-7PM RSVP at 917.284.8181.
The Inaugural Hamptons Designer Furniture Warehouse Sale will have over $3 Million Dollars of Fine Furniture on display for immediate sale. White Glove Transportation will be on hand to facilitate a seamless and expedited delivery of each purchase. The event is open to both Interior Design industry professionals, as well as the general public. "Our last two sales were a huge success. With the commitment of such high end showrooms and the aggressive sale pricing once again we expect a tremendous turnout," states Beer.
Inaugural Hamptons Designer Furniture Warehouse Sale- East Hampton Studio
July 13-15
10am-6pm
77 Industrial Road
Wainscott, NY
White Glove Transportation Services is a full service blanket wrap logistics company that for over 25 years has serviced the Fine Furniture Design community.
For more information on the first annual Winter Fine Furniture Designer Warehouse Sale and White Glove Transportation contact Philip Beer at 1-888-821-0808. http://www.whiteglovetransportation.com/events-2/
Philip Beer
Phil(at)whiteglovetransportation(dot)com
1-888-821-0808