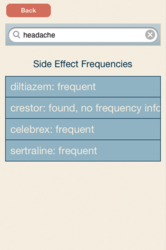 SideEffects is an indispensable tool for people who are taking several medications.
New York, NY (PRWEB) July 08, 2013
"SideEffects is an indispensable tool for people who are taking several medications," Susan Crayne, CEO of Oryx Technologies, said. "If they have a symptom, SideEffects will tell them whether that symptom could be a side effect of one of their medications. I believe that SideEffects has the potential to help millions of people manage their health care."
The easy-to-use application is available for a quick free download from the App Store at http://bit.ly/19waKwm. Once installed, SideEffects prompts users to list all of the medications they are taking; the application then displays the most common side effects that occur with that medication, and the frequency with which those side effects might occur. After that, users can type in the symptoms (headaches, muscle pain, joint pain, etc.) that they might be suffering from, and SideEffects will show which of their medicines might be causing those symptoms. From there, users can coordinate with their doctors, caregivers or their health care providers to adjust and modify their medications as necessary, ensuring the best treatment possible.
"With so many different medications and so much health care information out there, it's incredibly important for people everywhere to have accurate medical information to manage their everyday wellness," Crayne said. "We believe that SideEffects can provide the vital medical clarity that so many people around the world need."
Oryx Technologies, based in Hartsdale, New York, has also produced the AllAboard app - an Android app that displays the departure time of the next three MetroNorth trains from the user's preferred station - as well as browser addons and full-stack Web applications. Visit our website at http://www.oryxtech.net.