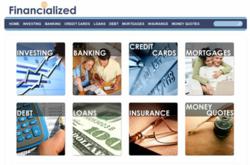 In today's fast moving world, people are looking for information that is neatly summarized and easy to locate, read, and understand. Our three new financial glossaries meet these criteria, and this is a recipe for success
(PRWEB) July 10, 2013
Financialized.com announces today the publication of three financial glossaries (http://www.financialized.com/Resources) to help visitors to understand complex financial terms, concepts, and jargon.
The glossaries were developed by the content development team at Financialized.com, to present definitions in the fields of mortgage banking, investing, and insurance. The three dictionaries are available completely free-of-charge. They are a valuable addition to Financialzed.com which offers a wealth of information on a wide range of topics, from investment and loan products to different types of savings accounts.
"In today's fast moving world, people are looking for information that is neatly summarized and easy to locate, read, and understand. Our three new financial glossaries meet these criteria, and this is a recipe for success," said John Williams, marketing consultant at Financialized.com
Many people lack formal financial education and cannot fully understand fine prints and disclosures that come with loan agreements, insurance policies, and financial statements. There are many strings and catches that are buried out of sight and are hard to locate. The reason is that disclosures contain confusing language that is difficult to comprehend.
Consumers live in a complex informational environment and are overwhelmed by advertising clutter and product offers. Mortgage agreements contain dense legalese that only an attorney or accountant would understand. They often include one-sentence paragraphs, abbreviations, and obscure words. Jargon and complex concepts are often used to mask limitations, exclusions, restrictions, and penalties.
The three glossaries present complex terms in simple sketches to help customers to make thoughtful financial decisions. The glossaries contain more than 300 definitions of common terms. The goal is to simplify financial concepts and help visitors to avoid hidden traps in formal contracts. The dictionaries are published under the Creative Commons License. They are free to use and re-distribute as long as Financialized.com is credited and linked back to. Visitors can download the three dictionaries in PDF format.
About Financialized.com: Financialized.com is a website, focused on offering free education on important financial topics.