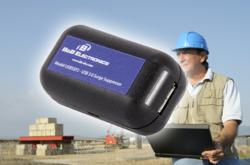 Ottawa, IL (PRWEB) July 08, 2013
B&B Electronics, Inc., a leading developer of rugged wireless and wired M2M connectivity solutions for harsh environments, today expanded its family of industrial-grade USB port protectors with the small-form-factor, affordable USBSSP2 "USB Sentinel" USB 3.0 surge suppressor. Unlike typical non-portable or "pass-through-panel" USB surge protection devices, B&B Electronics' USB Sentinel is compact (4.5 x 1.22 x 0.96 inches, 11.4 x 3.1 x 2.5 cm) and portable, connecting in-line between the computer and the peripheral device to protect it from the surges, spikes, and electrostatic discharge (ESD) that can occur when connecting computers to equipment in the field and factory. With a wide (0 to 80°C) operating temperature, advanced heavy industrial emissions standards and an EN61000-6-2 heavy industrial rating, the USB Sentinel is small enough to tuck into a pocket or a laptop bag, yet tough enough to stand up to repeated use in harsh environments.
The USB Sentinel is a passive device and provides fast, 20 microsecond clamping of surges -- up to 700 volts on the data lines and 1000 volts on the power lines -- without interfering with normal USB 3.0 connectivity. It is also backwards compatible with USB 2.0, providing a single USB surge suppression solution. The device is transparent to the operating system, host computer or hub, and it requires no drivers.
This suppressor is suitable for field service technicians, as well as fixed installations in industrial automation, instrumentation, security, kiosks, point-of-sale and laboratory market applications.
The USB Sentinel includes a USB 3.0 cable, is priced at $49 MSRP, and also carries a lifetime warranty. It is available directly from B&B Electronics and all of its distribution partners: http://www.bb-elec.com/How-to-Buy/Find-a-Distributor.aspx.
Product information: http://www.bb-elec.com/Products/USB-Connectivity/Isolators/USB-Surge-Protection.aspx
About B&B Electronics:
Founded in 1981, B&B Electronics Inc. provides M2M connectivity solutions for wireless and wired networks based on serial, Ethernet, wireless and USB communication technologies. Specializing in connectivity out at the "edge" of networks in remote, harsh and uncontrolled environments, the company is known globally for its easy to use, rugged and reliable device networking products, as well as for its knowledgeable technical support and responsive customer service. B&B Electronics is located at 707 Dayton Road, P.O. Box 1040, Ottawa, IL 61350, 800-346-3119 and at http://www.bb-elec.com on the Internet. EMEA support is provided from the company's sales and support office in Galway, Ireland.