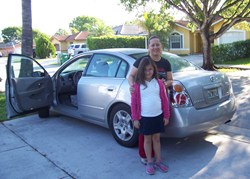 "As a mother, you always want the best for your children," said Mrs. Sonia Estrada, "and due to financial hardships I can't provide all I want for my children...that's why I believe that this [program] is just what we need as a family."
Miami, FL (PRWEB) July 23, 2013
The Branches Ways to Work car loan program provides financial education, a low-interest car loan, and support to working families who are committed to repairing their credit status and gaining a higher level of financial security. Last week, the program approved its 60th family to receive such a car loan. Clients use the loans to purchase reliable used cars to help them retain or move ahead in their jobs, reduce lateness and absenteeism at work, access additional education or job training and meet their family's needs, such as transporting children to childcare and school activities. Branches' Loan Coach Coordinators, Michele Edwards-Collie and Teresa Guardado, have been working diligently with their volunteer Loan Committees to approve deserving clients for this great program.
Approving 60 loans has been quite an undertaking, yet the success of the program is not about quantity but about the clients who build their credit and improve their lives over time. One example of such success is the family of Mrs. Sonia Estrada, a hard working wife and mother of three, who was in desperate need of reliable transportation. Mrs. Estrada begins each day very early, preparing breakfast for her children, taking them to school and then continuing on to the non-profit where she works. The family's oldest child also has cancer and Mrs. Estrada must often take him to doctor appointments, recently even having to go to the emergency room. Mrs. Estrada wants nothing but the best for her children and also goes out of her way to make sure her other two children attend their daily enrichment activities. Doing all this without a car is almost unimaginable and has caused Mrs. Estrada a lot of added stress, and has even caused her to be late to work quite often or forced her to leave work early to make it on time to certain appointments.
However, late last year, Mrs. Estrada received approval for a car loan for $6,000 and purchased a 2004 Nissan Altima through one of Branches' reliable auto dealer partners. Since that time, Mrs. Estrada has not missed a single loan payment and is still happily working for her employer, a local non-profit organization, and is able to much more easily transport her family. She is extremely grateful and has even referred two more clients to the program who's loan applications have also been approved.
Mrs. Estrada is one of 60 clients who has been approved for a Ways to Work car loan since the launch of the South Florida program in September 2011. To learn more about the Ways to Work Program, please call 786-507-3999.
About Branches
For 40 years, Branches (formerly South Florida Urban Ministries) has made a positive impact in the community by delivering on its mission to serve, educate and inspire people through student, family and financial stability services. Branches provides long-term, holistic services for motivated individuals and families. We help people grow deeper and climb higher in life by building a foundation through education so they can achieve their goals and fulfill their potential. For additional information about Branches, please call 305.442.8306 or visit http://www.branchesfl.org.
About Ways to Work (http://www.waystowork.org)
Ways to Work is a unique Community Development Financial Institution in Milwaukee. Through a network of more than 50 loan offices across the country, Ways to Work provides financial education and small, short-term, low-interest loans to working families with challenging credit histories. Most clients use their loans to purchase a reliable pre-owned vehicle to enhance their ability to remain engaged in the workforce and better manage their lives. The program provides an alternative to predatory lending for people with a demonstrated commitment to achieving increased self-sufficiency and who are intent on pursuing a higher degree of success in mainstream financial markets. All agencies that operate the program are members of the Alliance for Children and Families, a sister company of Ways to Work. Both companies are part of the Families International Inc. group of companies based in Milwaukee, Wisconsin.