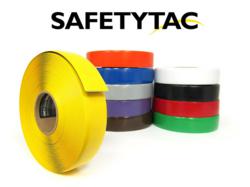 "Our car assembly operation is about extreme as you can get with forklifts, vehicles and workers. SafetyTac floor tape was installed 2 years ago and still looks like new!"
Lake Oswego, OR (PRWEB) July 10, 2013
When it comes to marking safety lanes and aisles on the warehouse floor, SafetyTac floor tape is recognized by both large and small companies alike to be the most effective, longest-lasting, and affordable safety marking tape on the market. Creative Safety Supply is now offering SafetyTac floor tape for warehouse floors, manufacturing floors, forklift lanes, safety boundaries, work area divisions, and 5S marking.
SafetyTac tape outperforms paint even in the toughest facilities and environments where on a daily basis there is high volume traffic from forklifts dragging heavily loaded pallets across its surface, as well as heavy trucks and tons of foot traffic. Painted floor markings will chip, crack, peel, scuff, and will become dirty just after only a couple of days. SafetyTac is made of industrial strength material, scuff resistant, wear resistant, easy to clean and no messy clean up and fumes to worry about. Paint requires shutting down an area that is being marked and losing production time due to dry and cure time for the paint to set.
Ten colors are available in 100' rolls ranging in widths of 2 inches to 6 inches. Marking projects can be completed simply and easy with the peel-&-stick installation and requires no separate applicator to get the job done. The specially designed dual-beveled edges and resilient surface can handle occasional chemical spills, grease or other caustic fluids. SafetyTac's tough exterior material and super-strong adhesive backing make cleaning it and keeping it clean a snap.
A plant manager commented, "Our car assembly operation is about extreme as you can get with forklifts, vehicles and workers. SafetyTac floor tape was installed 2 years ago and still looks like new!"
For more information about SafetyTac Floor Marking Tape, please visit Creative Safety Supply or call toll-free (866)777-1360 to speak with a professional representative.