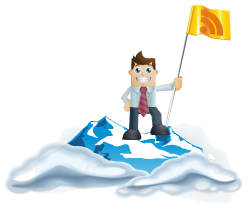 Charlottesville, Va. (PRWEB) July 09, 2013
According to Hubspot's 2013 State of Inbound Marketing Report, 82% of marketers who blog daily acquired a customer using their blogs, as opposed to 57% of marketers who blog monthly. Research has shown that there are many business benefits to blogging, but there are also several challenges associated with it. To address how to handle those potential problems and realize the full benefits of blogging, search engine marketing agency Search Mojo is teaming up with content consulting company Storyware to present a free webinar entitled "Blogging's Biggest Challenges and How to Overcome Them" July 11, 2013 at 2 p.m.
During this webinar, Kari Rippetoe, Content Marketing Manager at Search Mojo, and Todd Wickersty, Co-founder of Storyware, will explain how marketers can reap the benefits of blogging to ultimately gain more business. Rippetoe will cover the social media and search engine optimization (SEO) benefits of blogging as well as ways to overcome common challenges of blogging, making it easier for marketers to manage their time to be more successful with their blogging goals.
One of the biggest hurdles marketers have with content marketing is producing enough content, and blogging is certainly not an exception to this," said Rippetoe. "It is, however, the easiest way to start content marketing, and there are ways to make the ongoing process of maintaining a blog less challenging and more efficient."
Wickersty will discuss the logistics of blogging, including some of the different blogging platforms available and how to determine which will work best for a company's needs.
"The tools available for blogging are getting easier and easier to use," said Wickersty. "In addition, they are becoming more social, mobile, and community-focused. I'll be discussing some of the major blogging tools available today and how businesses can best leverage them."
To register for the webinar, go to http://www.search-mojo.com/blogging.
About Search Mojo
Recently ranked on the prestigious Inc. 5000 list as one of the fastest growing businesses in America, Search Mojo specializes in search engine marketing, social media advertising, content marketing and analytics services. Founded in 2005, Search Mojo uses the latest information and techniques to help companies improve their conversions and lead generation through search and social tactics. Learn more about Search Mojo at search-mojo.com or read our blog, Search Marketing Sage, at blog.search-mojo.com.
About Storyware
Storyware is a design, development, and consulting shop that build tools, themes, and strategies for content creators online. Some of the brands and personalities that they have worked with include The Home Depot, Tumblr, Dave Matthews, Tim McGraw, The Scout Guide, Spotify, and Virgin Atlantic. Learn more at http://storyware.us/.