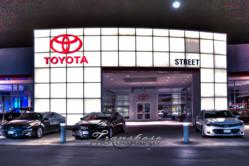 Amarillo, TX (PRWEB) July 08, 2013
Joe Street, owner of Street Toyota, has announced that they will open a new Volkswagen store in Amarillo, Texas in September of 2013. The temporary location will be on the south side of 45th Street, just east of Interstate 27 and the permanent location, once built, will be immediately south of McGavock Nissan on South Soncy.
Volkswagen recently contacted several dealers in the Amarillo area to offer an opportunity to become part of the Volkswagen family. Volkswagen wants to bring its line of vehicles to smaller communities and asked Street Toyota to submit a request for a Volkswagen store. After careful consideration by Volkswagen of Street Toyota's customer service, customer retention, quality of work and other aspects, Joe Street was offered the opportunity to add Volkswagen to their family of vehicle offerings. Mike Good, General Manager at Street Toyota, stated, "You can expect the same quality customer service at Street Volkswagen, as Joe Street wants each person's experience to be the best they have ever had."
Street Volkswagen will start small, but will expand as necessary as the demand for Volkswagen vehicles increases. Dave Walker, Scion Manager at Street Toyota, stated, "We are very excited to bring Volkswagen to Amarillo as an interesting option for German vehicles that aren't too expensive. We will also bring the same culture that is present at Street Toyota to bring the best experience for our customers."
Volkswagen offers a multitude of different models to fit every lifestyle. From the traditional revamped Beetle to the luxurious Touareg, their variety offers something for almost everyone. Dave Walker said, "I am most excited to see the 2013 Volkswagen Turbo Charged GTI, which offers fuel efficiency and a sporty look." Street Volkswagen will also offer a great selection of high quality pre-owned vehicles to fit any budget. Street Toyota is excited to bring a new line of Volkswagen vehicles to the people of Amarillo, giving them more options, more choices and more reasons to choose Street Toyota and soon, Street VW of Amarillo. For more information, please contact Street Toyota via their website at http://www.StreetToyota.com or by phone at 888-904-8417.