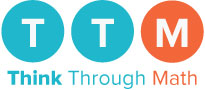 With more than two million student users in 41 states, we are thrilled that TTM is being used by more students than any other Web-based, remedial math program in the country.
Pittsburgh, PA (PRWEB) July 10, 2013
Think Through Math (TTM), the Web-based solution that provides comprehensive math instruction and practice for students in grades 3 through Algebra 1, has unveiled its newest features and upgrades to its flagship software today.
The most widely-used, web-based math learning solution for remedial math in the country, Think Through Math was developed by teachers and technologists to help students prepare for Common Core State Standards and accelerate math learning. TTM's newest features and upgrades include:

Assessment-type questions, including multi-step items and tasks based on Partnership for Assessment of Readiness for College and Careers (PARCC) and Smarter Balanced Assessment (SBAC) tasks.
More than 300 Fill-In-The-Blank (FITB) items have been added to the program and impact 60% of TTM lessons.
13 new lessons as precursors to TTM's existing grade 3 lessons provide deeper remediation with content from grades 1-2. With this addition, TTM now has 213 lessons containing thousands of activities.
Dashboards have been redesigned to reflect input received directly from students and educators and now include new tools for customization, using points, and communication between teachers and students.
For a comprehensive guide, please visit TTM's New Features and Upgrades.
"With Think Through Math, we have combined the latest technology, innovative instruction and a unique motivational system to help students succeed in math," said Kevin McAliley, CEO. "With more than two million student users in 41 states, we are thrilled that TTM is being used by more students than any other Web-based, remedial math program in the country. Our new features and upgrades reflect our passion to continually strive to give our students the maximum opportunity for success in math."
Personalized Learning
TTM complements the traditional classroom by providing adaptive instruction that can be used from school or home. The program – designed to also help support school districts and teachers as they adopt and integrate personalized and blended learning environments – deepens understanding and proficiency by focusing on the essential skills and concepts needed for advanced mathematics. Students follow personalized lesson pathways that chart progression toward algebra and beyond, while allowing teachers to provide more individualized attention based on each student's needs. The adaptive system modifies pathways to target individual needs and, if necessary, provides precursor lessons to ensure success at grade level.
Live Support
As students work through their personalized lesson pathway, they receive immediate corrective feedback at every step. Character-based avatars, called Learning Coaches, provide the first level of student support. However, if a student struggles, live, certified, English- and Spanish-speaking math teachers online are available to work 1-on-1 with students.
Beyond Math – Charitable Motivation
Think Through Math provides game-like strategies and intrinsic and extrinsic motivational tools. For example, as students progress, they earn "THINK points," which can be used to make charitable donations to select charities. TTM donates one dollar for every 5,000 points to various charities throughout the year.
In May 2013, TTM students donated more than $11,000 to The American Red Cross West Texas Relief Fund and were recognized by the Texas Commissioner of Education. In June 2013, students donated an additional $12,000 for Oklahoma tornado relief.
Pricing/Availability
Available now, Think Through Math provides a cost-effective solution for school or district administrators. A class of 30 students costs under $500 for a year and students and teachers can access TTM from both school and home.
For more information, visit http://www.thinkthroughmath.com, view TTM's ThinkNation blog, find us on Facebook or reach out via Twitter @ThinkThruMath.
About Think Through Math
At Think Through Math, we believe that success in mathematics transforms the way students perform in school and beyond. We are driven to motivate students in unprecedented ways. We have a vision of effective education: a powerful blend of web-based, adaptive instruction and on-demand, LIVE, state-certified teachers. In 2012, the Software and Information Industry Association named Think Through Math the "Best Mathematics Instructional Solution."
Think Through Math's CEO, Kevin McAliley and Sr. VP and co-founder, Louis Piconi, recently received top honors at the presigious Ernst & Young 2013 Entrepreneur of the Year awards for the region of Western PA and WV. They will go on to compete for Entrepreneur of the Year at the national level on Nov. 16 in Palm Springs, CA.